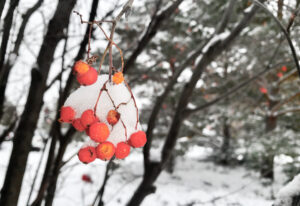 "Oh, but it's a dry cold."
By the calendar, it's fall. But the scene through my window is clearly winter. In Saskatchewan, we have already pulled out the toques and long johns—the keys to comfort in our 'invigorating' climate.
Whatever the weather, Ag-West Bio staff continues working to understand the challenges faced by Saskatchewan agri-food companies, and to look for opportunities to help advance the entire sector. Contact us if you are looking for connections or business advice, or if you just want to learn more about Saskatchewan's exciting agri-food/bioscience sector.
What we are up to:
Be sure to join us at Boffins on November 16th for Carbon Conversations: Opportunities for Canadian Agriculture, the first of a two-part series that will provide education about carbon markets, identify the challenges in agriculture, and determine how our industry can stay ahead of the curve. These events are part of The Knowledge Farm series, Saskatchewan's premier forum producing connections that grow innovative ideas in agri-food and bioscience.
We are partnering with Affinity Credit Union on an exciting event series called Sprouting Success. Four events are planned throughout 2023, starting with Innovation through the Generations at the Crop Production Show in Saskatoon this January. Watch for details coming soon!
March 2023 will mark the conclusion of the first round of the Diverse Field Crops Cluster (DFCC). On December 7, 2022 the scientists leading the 16 research activities in the seven crops under DFCC will present their research findings at Why Diversify? DFCC Industry Day.
Ag-West Bio is partnering with industry to lead the development of a new Saskatoon food cluster, to be officially launched before Christmas. Stay tuned for more information!
Visit our event calendar and sign up for our Weekly Update to keep up with news and events in Saskatchewan's bioscience industry; and of course, like us on Facebook, follow us on Twitter and LinkedIn, and subscribe to our YouTube video channel.
Thank you to the Ag-West Bio members who submitted articles to this Bulletin.