Pure Heart. Prairie Science.
Ag-West Bio's culture is a reflection of Saskatchewan's agriculture community.
We have great pride in our province.
Our resourcefulness and creativity stems from our prairie roots.
We understand that progress requires persistence and hard work.
We are committed to growing the agri-food sector.
Our patience and perseverance comes from understanding that this is a life-long project.
At Ag-West Bio, we stand behind startups and small companies to help them bring their innovations – and their dreams – to life.
Ag-West Bio helps move research to the market and grow agri-food business in Saskatchewan by supporting businesses, catalyzing initiatives, creating connections, and promoting science.
Ag-West Bio is Saskatchewan's bioscience industry association and bioeconomy catalyst.
Since 1989, our mandate has been to help move research to market and grow biobusiness in the province. A not-for-profit, membership-based company, Ag-West Bio members include public research institutions, private companies (from start-ups to multinationals), research service organizations, economic development and commodity groups. Members represent the biotechnology, bioproducts and biofuels, environment, health and nutrition sectors.
Entrepreneurs come to Ag-West Bio for pathfinding and help in creating sound business plans. Our Technology Commercialization Fund assists early stage companies, and helps established companies expand their businesses.
Our networking events, conferences and seminars help the bioscience community stay connected and informed. We lead delegations to relevant international conferences, and help arrange meetings for incoming delegations interested in doing business or finding partnerships in Saskatchewan. Ag-West Bio also participates with like-minded associations from across Canada in creating awareness of the bioscience industry.
What we do
Our Vision
Saskatchewan is a world leader in bringing agricultural bioscience innovation to commercialization.
Our Mission
Accelerating innovation and enabling companies to commercialize research in agricultural and food biosciences.
Our Mandate
To provide leadership, as a catalyst, to link existing capabilities and resources in order to strengthen the bioeconomy industry in Saskatchewan.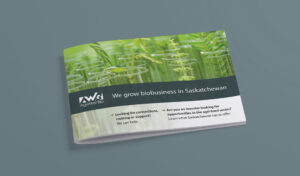 History
Ag-West Bio: A catalyst for Saskatchewan's bioeconomy
In the '80s, the biotech industry was emerging in Saskatchewan. The provincial government and the University of Saskatchewan decided a catalyst was needed to accelerate the growing ag-biotech sector.
In 1989, Ag-West Biotech was launched by Saskatchewan's Ministry of Agriculture, with a mandate to provide leadership and assistance for Saskatchewan's ag-biotech cluster, aiding in the commercialization of new biotechnologies, helping existing companies grow, and attracting new companies to the province.
Ag-West Biotech amalgamated with the International Centre for Agricultural Science & Technology, absorbing the ICAST investment portfolio in 1997. A re-organization in 2004 saw Ag-West Biotech merge with two complementary provincial associations: Bio-Products Saskatchewan and the Saskatchewan Nutraceutical Network. Ag-West Bio emerged from the amalgamation with a focus on commercialization of biological applications in agriculture, environment, industry, energy and bioprocessing, as well as nutrition and health.
Since its inception, Ag-West Bio has assisted numerous companies start-up or relocate to Saskatchewan. Ag-West has also helped Canada's regulatory system keep up with advances in biotechnology, and worked to educate the public through various publications, a website, workshops and seminars. From 1998 to 2004, Ag-West operated the Saskatchewan Agricultural Biotechnology Information Centre (SABIC), a hands-on teaching lab that was open to the public.
Today, our focus is on business development and assisting companies with commercialization of new technologies. To support the industry, we also partner with like-minded organizations to promote bioscience through public outreach.
A few of our past initiatives