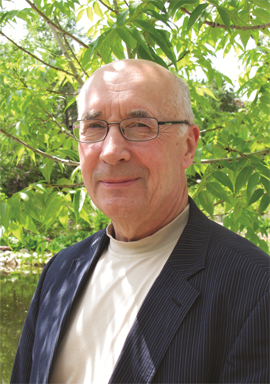 Tourism Saskatoon, the Saskatoon Hotel Association, and Saskatoon Sports Tourism recognized Wilf Keller and the Ag-West Bio team for bringing numerous visitors to the city over the years through conference activity, and specifically for work on the Agricultural Biotechnology International Conference (ABIC).
Keller was one of 12 individuals to receive an award at the sixth annual Saskatoon Shines! Tourism Leadership Celebration held June 11th at the Ramada Hotel Saskatoon. Ag-West Bio's Communications Director Jackie Robin accepted the prize on his behalf, as he was triple booked that evening with Ag-West co-hosting two events: The Application of Synchrotron Imaging for Crop Improvement Workshop and the 2nd Canadian Wheat Symposium.
Tourism Saskatoon's Leadership Celebration is an annual event to publicly recognize the efforts of individuals who have contributed to tourism in our city through attractions management, or by hosting or bidding for events.
This year's Saskatoon Shines! Tourism Leadership Celebration recognizes these 12 individuals for their dedication to tourism in 2013:
Grant Kook: Chair – 2013 & 2014 PotashCorp University Cup presented by Co-op
Bryan Kosteroski: Chair – 2013 U31 Men's International Softball Championship
Rick Marsh: Chair – 2013 Canadian Air Traffic Controllers Association (CATCA) Conference
Robert Innes: Chair – 2013 Native American Indigenous Studies Association Conference
Shona Stapleton: Chair – 2014 Western Canada First Nations Education Administrators BID
Wilf Keller: Chair – Agricultural Biotechnology International Conference
Jennifer Pereira: Chair – Persephone Theatre
Brian Swidrovich: Chair – Canada Remembers Our Heroes
Rick Steffen: Chair – Festival of Trees
Gisèle Lalonde: Festival Cinergie
Steve Chisholm: Sports Ambassador – Lifetime Achievement
Craig Peterson: Sports Ambassador – Lifetime Achievement
"Saskatoon is known for hosting outstanding events year after year, and this success could not be achieved without the dedication these individuals have for their city," said Todd Brandt, President and CEO of Tourism Saskatoon. "In honouring them, we also recognize everyone who plays a part in our thriving tourism industry."
With numerous international events hosted over the past 25 years, Ag-West Bio has welcomed countless visitors to Saskatoon to learn more about the research and commercialization activity here.
ABIC 2014 will be held this year from October 5-8 at TCUPlace in Saskatoon, SK. Since Ag-West Bio created the conference in 1996 in Saskatoon, it has been hosted in Canada, Germany, Australia, Ireland, Thailand, South Africa and New Zealand. ABIC 2015 will be held in Fargo, ND, then travels back to Australia for 2016. For details about this year's program, visit www.abic.ca/abic2014.
Saskatoon welcomed 2.8 million visitors in 2013. These visits generated over $530 million towards the local economy.