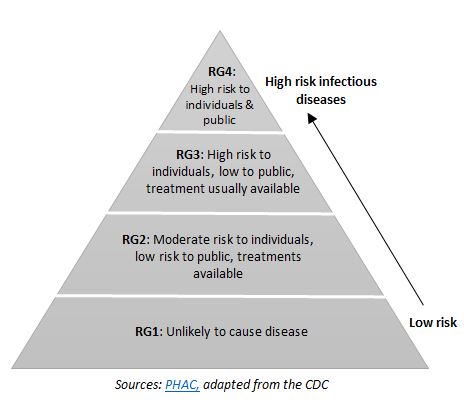 Risk group 3 (RG3) infectious diseases have the potential to cause serious health and economic consequences. For example, Porcine Epidemic Diarrhea Virus and Middle East Respiratory Syndrome Coronavirus have caused recent concerns in North America. To combat the threat of these types of diseases, the Vaccine and Infectious Disease Organization (VIDO) built the International Vaccine Center (InterVac) – a containment level 3 (CL3) research laboratory.
This state-of-the-art facility, which took over four years to construct and cost approximately $145 million, was funded by the City of Saskatoon, the Government of Saskatchewan, and the Government of Canada. In 2013 InterVac was fully certified by government agencies and CL3 research was initiated. With the additional capacity, VIDO-InterVac has the capability to conduct research on RG2 and RG3 infectious diseases from discovery to pre-clinical (human) and full-regulatory trials (animal) for vaccines and other anti-infective agents.
Since certification, several projects targeting human and animal infectious diseases have been initiated at InterVac. These include projects focused on Porcine Epidemic Diarrhea Virus (PEDv) and Chronic Wasting Disease (CWD) (refer to sidebar).
Researchers at VIDO-InterVac have developed a swine model for PEDv and have begun efficacy testing of novel vaccine candidates. Additionally, an elk model for CWD has been established and clinical trial commenced for a CWD vaccine developed in partnership with scientists from across Canada. The commercialization of the CWD vaccine will be completed in collaboration with the Pan-Provincial Vaccine Enterprise Inc., a non-profit national Centre of Excellence for Commercialization and Research. If successful, the two resulting vaccines will add to the 6 world-firsts developed by our organization, further establishing VIDO-InterVac as a world leader in vaccine development.
Prior to the commissioning and certification of VIDO-InterVac's containment level 3 research space, the capacity to perform this type of research was limited in Canada. The potential impacts of these projects, strengthened by national and international partnerships, demonstrates the value VIDO-InterVac's expanded capacity and expertise has on the fight against infectious diseases. Research solutions developed at VIDO-InterVac will continue to protect Canadians from infectious diseases, create economic benefits for human health and livestock industries, and contribute to Canada's Science and Technology Strategy.
Created in 1975, VIDO-InterVac is a research organization of the University of Saskatchewan that receives financial support from multiple sources including the Government of Canada, Government of Saskatchewan, various foundations, corporations and producer groups. VIDO-InterVac has developed eight commercial vaccines, and holds over 90 U.S. patents. With some of the world's most advanced containment level 2 and level 3 research facilities, including a 160 acre research station, and the expertise of its researchers, VIDO-InterVac continues to develop new approaches in response to infectious disease threats. For more information visit: www.vido.org