It's time to talk pot.
This year marks the fifth anniversary of cannabis legalization in Canada. Since 2018, there have been big changes in the sector. The initial phase saw numerous companies buying up licences and jockeying for space; now things are beginning to stabilize.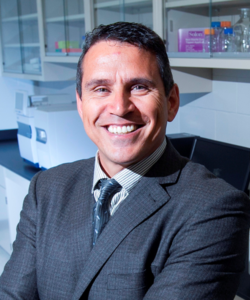 Blaine Chartrand, program head for the BioScience Technology program at Saskatchewan Polytechnic, says the institution recently received its cannabis analytical and research licences, and is now looking for funding partners.
"Receiving these licences allow us to participate in applied research projects involving cannabis," he says. "A lot of our graduates are highly sought after in the cannabis industry for their technical skills. We can now give them more cannabis-specific training by participating in applied research projects."
As a polytechnic, providing enrichment for student training is always the focus. However, Chartrand believes Sask Polytech can also provide support to the local cannabis industry, while ensuring his students gain additional, sector specific experience.
"What I'd like to bring to the table is helping them [companies] with some of the big questions that they have in R&D – and being able to utilize Sask Polytech's equipment."
Sask Polytech analytical equipment includes Next Generation Sequencing equipment, Inductively Coupled Plasma Mass Spectrometry (ICP-MS), Gas Chromatography Mass Spectrometry (GC-MS) and Liquid Chromatography-Mass Spectrometry (LC-MS).
"We can look at terpenes, we can look at cannabinoids, we can do microbiome analysis and genotyping by sequencing, which might help with some of the breeding. We can analyze micronutrients or heavy metals – things like that. This could also be helpful for looking at the microbial community presence in soils that you're growing in," says Chartrand.
He is quick to note that they aren't planning to compete with industry, but rather fill in gaps with services that might not be available. "If you're sending samples a long way and have issues getting analysis done, then maybe that is something Sask Polytech can assist with," he says, adding that analytical work would be done on a fee-for-service basis.
"I really do think it'll help the cannabis sector because they will have access to some equipment that they maybe don't have, or with the analytical services," he says. He adds that these services will also be valuable to the hemp industry, since hemp is similar to cannabis (the main difference it that hemp contains much lower levels of tetrahydrocannabinol, or THC, the substance that produces the 'high' sensation).
One of the advantages of working with Sask Polytech is that the intellectual property stays with the company. "When we do research, we don't take ownership of intellectual property. The methods we learn when doing the research is knowledge Sask Polytech is allowed to keep in its toolbox. It just improves our capabilities and helps the next customer."
Chartrand says his goal right now is to gain a clear understanding of what the cannabis sector needs, and how Sask Polytech can help support the industry.
The extensive network of Sask Polytech grads currently working in industry helps give him some insight into what cannabis companies require, but he also believes the community would benefit by coming together to compare notes, discuss challenges and share ideas.
With that in mind, Sask Polytech, Ag-West Bio and Innovation Saskatchewan are co-hosting a Knowledge Farm event called Stirring the Pot 2.0 at Boffins Event Centre on March 29th. The goal is to have a conversation about local analytical resources and needs, learn more about what research is happening, and explore the idea of forming a cannabis industry consortium.
"We have lots of companies here, and there are things we, as an industry, could share with each other. We don't necessarily have to share IP, but we can share best practices and maybe work together."
Chartrand will moderate a panel discussion, with panelists Jordan Hannah, Executive Director of Compliance and Science at Mother Labs (a cannabis nursery and supplier); Devin Dubois, Vice President and co-founder of Blue Sky Hemp Ventures; and Clayton Sparks, founder of Flower Power Cannabis Pharms. Doors open at 3:00 pm, program begins at 3:30 pm followed by networking and munchies. For more information and to register, click here.
Top: Stock Photo (depositphotos)
Photo 2: Blaine Chartrand, Program Head, BioScience Technology, Sask Polytechnic (credit: Sask Polytech)