Marg and Bill Sullivan first discovered the sweet purple berry when they approached the University of Saskatchewan (USask) looking for a hardy fruit tree that deer wouldn't eat. That led them to becoming propagators, growers, producers, product developers and industry builders for the haskap berry (Lonicera caerulea), a fruit developed through the University of Saskatchewan Fruit Program by researcher Bob Bors. The Sullivan's own Four Seasons Greenhouse and Sweet Prairie Haskap. 
"We not only grew our own haskap plants, we also became a propagator at our greenhouse. We were instrumental in getting the plants out to orchards in Saskatchewan and Alberta and decided to plant a few acres for ourselves. We realized that no one was processing any part of the plant other than the fruit, so we decided to explore what the plant had to offer as far as health benefits go," Marg Sullivan says. 
Tests at the Saskatchewan Food Industry Development Centre (Food Centre) revealed that the leaves have even more health properties than the berries and can balance the bitter compounds that affect the flavour of the berries alone. A juice formulated with both the berries and the leaves turned out to contain levels of antioxidants and flavonoids (such as quercetin) that exceeded their expectations.
"Haskaps have more antioxidants, per ounce, than any other superfood. Its quercetin levels also qualify it as an energy booster. With all this bio-available nutrition, we realized we had to sell it on the health food market. Even using the flash pasteurization process the Food Centre helped us develop, it still has high levels of Vitamin C and an indefinite shelf life," says Sullivan.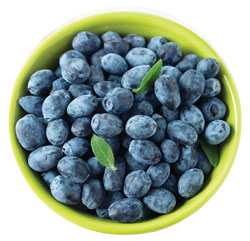 Sweet Prairie Haskap doesn't have the capacity to undertake its own research and testing but has benefited from research at USask and Dalhousie University on the plant's sugar profiles and potential tumour fighting and anti-viral properties. "These aren't health claims we can make yet, but the research results are very promising," says Sullivan.

Endurance athletes who have tried the juice are spreading the word about its properties. "I let them trial the juice and they loved it added to protein drinks," says Sullivan. "The juice is a natural energy supplement and also stabilized their smoothies. The endurance athletes were my first best customers." 

Sullivan herself is a walking advertisement for her product. She radiates energy. "I'm 63 years old. Bill and I run a 50,000 square foot greenhouse, a purebred cattle operation, and Sweet Prairie Haskap. I work 14-hour days and drink my haskap juice religiously. I can still feel tired sometimes, but without my juice, I'd be flat out." Marg has also served on the board of directors for Haskap Canada and organized haskap research symposiums.

Sweet Prairie Haskap's work with the Food Centre went beyond testing; it also helped them resolve their co-product issue, turning the pumice left behind from the juicing process into a powder, which can also be added to the juice. Some of the product development work at the Food Centre was supported by Canadian Agricultural Adaptation Program (CAAP) funding. 

Sullivan recently participated in Ag-West Bio's Agri-Value Training program and has only good things to say. "It really helped me to focus my messaging on solving a customer problem and offering a solution." She says it also made her realize she needs help with marketing. "I've been a developer, a researcher and a grower, and Ag-West Bio training helped enormously. But marketing is a whole other job and there's not enough of me to go around." 

Currently, Sweet Prairie Haskap's juice is available in local health food stores in Saskatoon, Weyburn and Estevan. The juice was about to expand into Manitoba when COVID-19 hit. 

"We're in a launch posture. We have a co-processing company that is willing to work with us, and a marketer and distributor in the United States that approached us and wants to work with us. We just need to wait for our FDA approvals and wait for the cross-border traffic to open up." 

The Sullivans saw the long-range potential of haskap from the beginning and believe it can develop into an industry. "We want to do more than grow fruit and sell it. As an industry, we will move forward faster, and we hope to be the arrowhead that leads the industry in Saskatchewan to new levels of possibility."

 

This article was written for AWB's 2020 annual report.