Developing new technologies takes time, effort, perseverance, and a heck of a lot of capital; it can be a tough road, but for Agrisoma Biosciences it's also an extremely rewarding one.
During BIO International in San Diego on June 24, Agrisoma Biosciences was presented with the Gold Leaf 'Company of the Year' Award for its ability to commercialize Barassica carinata, also known as Ethiopian mustard seed. Presented annually by Canada's national biotechnology industry association, BIOTECanada, this prestigious award is given to a company who has made a significant contribution to the biotechnology industry.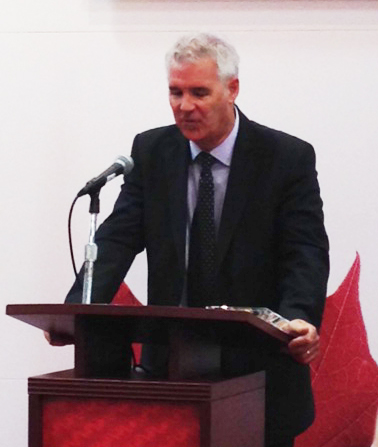 Agrisoma has been trailblazing the development and commercialization of carinata since 2008. Agrisoma's Resonance® Carinata is a non-food crop meeting the growing need for low carbon fuel sources. It delivers a reliable source of renewable oil that can be used as a 'drop-in' feedstock for biojet and biodiesel fuel manufacturing processes. By promoting Agrisoma Resonance® Carinata as a high performance crop option for growers in semi-arid production zones and as an option for crop rotation, Agrisoma has been a major player in working towards sustainable energy solutions for the world. Steven Fabijanski, Agrisoma President and CEO, commented on the achievement in a press release: "It is a gratifying acknowledgement of the innovation we have accomplished in bringing to market next generation agricultural products, which are providing a sustainable solution for renewable energy."
First noted for its high levels of erucic acid, the development of carinata was the fueled by the opportunity for use in lubricants, fuels, and feedstock for bio-plastics. Through the efforts of Dr. Kevin Falk at Agriculture and Agri-Food Canada and the Saskatchewan Mustard Development Commission, two varieties were successfully bred in 2012 and 2013. In 2012, the National Research Council of Canada conducted the world's first 100% biofuel flight using Agrisoma Resonance® Carinata. The drop-in fuel made from Agrisoma's carinata-based oil is functionally identical to conventional jet fuel. Studies have shown engines operate with improved efficiency and reduced carbon emissions.
The commercialization of carinata by Agrisoma has created new opportunities for growers and producers alike. Recently, the Canadian Food Inspection Agency approved carinata meal in cattle feed. Market potential for Agrisoma Resonance® Carinata continues to expand with this approval by giving more opportunity along the carinata value chain.
Andrew Casey, President and CEO of BIOTECanada, speaks to Agrisoma's accomplishment and the importance of biotechnology in the world: "The vision and dedication of Agrisoma offers inspiration and promise for the economy and society more broadly. Using the tools of biotechnology to rapidly enhance performance and enhance sustainability only adds to the importance of agriculture in meeting the social, environmental and economic challenges associated with rapid global population growth."