Black Friday, the last Friday in November, is typically a time for shopping and bargain hunting and this past year was no exception for dog and horse owners.
Based in Saskatoon, Saskatchewan, Smart Earth Camelina Corp. saw a huge Black Friday bump in sales of its canine and equine products. Smart Earth is a leading global camelina enterprise and is dedicated to developing the best camelina varieties available. With its own carefully developed germplasm, Smart Earth also works directly with growers to provide camelina production opportunities in the Canadian Prairies.
"We started to see an increase in our canine and equine sales during Black Friday 2020. We kept seeing a significant increase in our sales throughout 2021 and then Black Friday 2021 hit – it was incredible. The entire team all had to chip in to fulfill all the orders we received," says Jack Grushcow, President and CEO of Smart Earth Camelina.
"We have invested heavily in our social media marketing assets and it's really paying off," adds Grushcow.
The profile of camelina oil is similar to flax oil in that it is nutritious and a source of Omega fatty acids. Camelina oil is high in ALA with a 1.6:1 to 1.8:1 ratio of Omega 3s to Omega 6s. However, camelina oil has greater oxidative stability than flax oil, which is an important feature for horse and dog owners.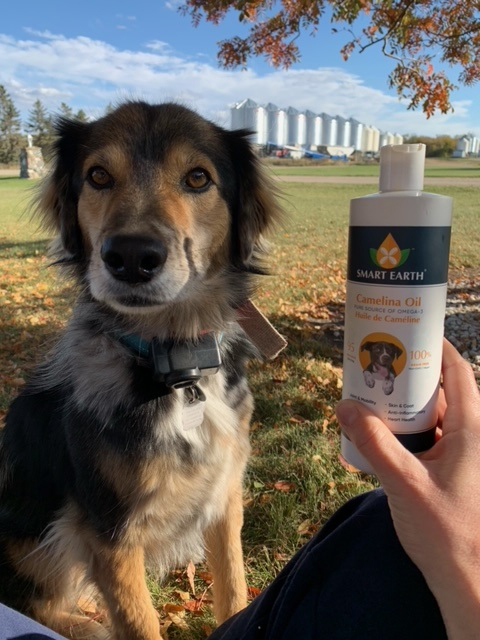 Smart Earth introduced its canine product line in January 2021 and, according to Grushcow, the market has really taken off. Dog owners appreciate the product's natural anti-inflammatory properties and how it helps with allergy symptoms. Smart Earth's cold-pressed filtered camelina oil is sold in convenient 16 oz. bottles for dogs.
"There is an increasing awareness of the concept of prevention and encouraging good canine health during all life stages. One of our employees breeds Springer Spaniels and she starts her dogs on Smart Earth camelina oil when they are puppies. She has noticed larger, healthier litters. Word of mouth and customer testimonials are both a big part of our increase in sales this past year," says Grushcow.
For horse owners and enthusiasts, Smart Earth offers 1 gallon, 3.5 gallon and 5 gallon options. For those who view their horses as athletic partners, camelina oil promotes recovery for active working horses. Overall, horse owners notice increased joint mobility and decreased inflammation in horses that are regularly taking Smart Earth camelina oil.
Fulfillment for Canadian customers takes place at Smart Earth's Saskatoon office. Fulfilment of US orders and shipping is out of Bolingbrook, Illinois. Canadian retail stores that sell Smart Earth's canine and equine products include Greenhawk Equestrian Sport, Peavey Mart and Western Drug Distribution Center.
From an agricultural perspective, camelina is a unique, dryland oilseed crop that can be produced on marginal lands with significantly lower inputs than other oilseeds, all while providing competitive yields.
In addition, Smart Earth is proud to maintain a continuous plant-breeding program for camelina – unmatched in its scale and scope. These plant-breeding activities provide a significant pipeline of trait development to ensure maximum yield and profitability for growers in the years to come.
To find out more, or to purchase Smart Earth canine and equine products, go to www.smartearthcamelina.ca.