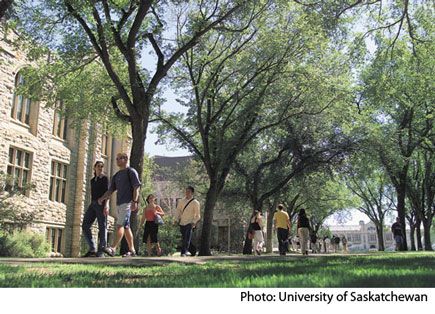 Looking up at a bright blue sky peeking through the canopy of elm trees lining the grand, collegiate gothic buildings on Saskatoon's University of Saskatchewan campus, it's hard to imagine a better place to live and work. For those who believe lifestyle is as important as making a living, Saskatchewan offers the best of both worlds. While Saskatoon residents insist the lifestyle here can't be beat, with easy commutes and plenty of cultural and recreational diversions, it's the scope and quality of bioscience research here—and commercial opportunities emerging from that research—that is truly impressive. Activities are expanding from strengths in agbiotech, to other areas such as greentech and health.
The U of S, with seven life sciences colleges, three life sciences schools, and many departments and research centres, is the hub of Saskatchewan's bioscience cluster. This cluster also includes public institutions that support companies through contract research, scale-up and pilot plant activities, and beautiful Innovation Place, a research park housing numerous companies and often a focal point for industry interactions.
New facilities such as the Academic Health Sciences Complex and the Vaccine & Infectious Disease Organization's International Vaccine Centre (VIDO-InterVac), a level 3 containment facility for vaccine R&D, provide more opportunities for human and animal health research. The Biomedical Imaging and Therapy beamline at the Canadian Light Source (CLS) synchrotron and the new research cyclotron being acquired as part of the Canadian Centre of Nuclear Innovation are enabling innovations in imaging.
VIDO-InterVac and the CLS are part of the Saskatchewan Biosciences team promoting the province's capabilities at BIO 2012 International Convention in Boston (June 18-21). Meet representatives from Enterprise Saskatchewan, the Government of Saskatchewan's central economic development agency; the Saskatchewan Research Council, Canada's leading provider of applied R&D and technology commercialization; SIAST (Saskatchewan Institute of Applied Science and Technology), a leader in the education of lab technologists; and the U of S Industry Liaison Office (ILO), focused on accelerating the commercialization of U of S research and knowledge and building partnerships with industry.
Three private companies are also represented: Prairie Plant Systems is developing and manufacturing biopharmaceuticals derived from plant host platforms grown in biosecure facilities. An example is a legume model which expresses genes for adenosine deaminase (ADA), a protein critical to the human immune system. AdeTherapeutics is a clinical-stage product development company with exciting technology based on a dipeptide that modulates the body's internal repair system and accelerates the pace of healing by preventing the formation of scar tissue. Okanagan Specialty Fruits develops novel tree fruit varieties using biotechnology to deliver value from grower to consumer. OSF's platform project, nonbrowning Arctic Apples™, result when the genes that produce the enzyme that initiates the browning reaction have been turned off.
Leading the delegation is Ag-West Bio, Saskatchewan's bioscience industry catalyst. If you are looking for collaborations or investment opportunities, or growing a bio-based business, take a look at Saskatchewan. Visit us in the Canadian Café, booth #735.