For over two decades, the Sanofi Biogenius Canada (SBC) program has nurtured young minds and fostered great talent for the future, challenging high school students to carry out groundbreaking research projects in the field of biotechnology.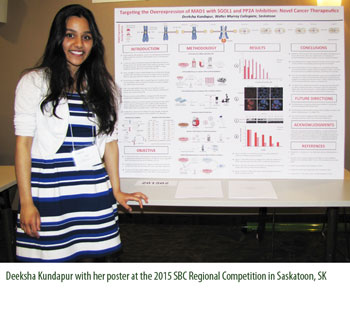 This is no ordinary science fair. SBC participants tackle elite, university-level research topics, from cancer and Alzheimer's disease to agriculture and the environment. Last year, Deeksha Kundapur of Walter Murray Collegiate Institute won the top regional prize in Saskatchewan for her project "Targeting the Overexpression of MAD1 with SGOL1 and PP2A Inhibition: Novel Cancer Therapeutics."
Students who compete in the SBC competition are matched with local academic mentors, giving students hands-on research experience in a professional lab setting – an invaluable opportunity that that proven to be vastly influential in mapping out career development for youth.
Many competition projects have since been patented and commercialized, garnering international media attention and igniting a true culture of innovation in Canada. Sanofi Biogenius Canada helps lay the foundation for the next generation of leaders: great thinkers, innovators and expert researchers who will shape the future of our country.
Get involved!
Become a mentor
If you are an academic or professional based in Saskatoon in the field of biotechnology, your guidance and resources can help make the SBC possible for a budding scientist. Being a mentor to a bright and enthusiastic young researcher is a unique and rewarding experience. SBC participants represent fresh, raw talent ready to soak up everything they are taught. As a mentor, you can bring out their passion and skill as well as teach valuable lessons on how to think critically, problem solve effectively, and practice patience and perseverance in a lab setting. Past mentors have been amazed by the talent and ability of the young researchers who enter this competition – students whose work in many cases have contributed to the international scientific body of knowledge.
Become a sponsor
Help promote a strong future for the Canadian life sciences, while enjoying access to a vibrant R&D culture and high-performing future scientists.
Please contact regional coordinator, Chelsea Abramoff for details.