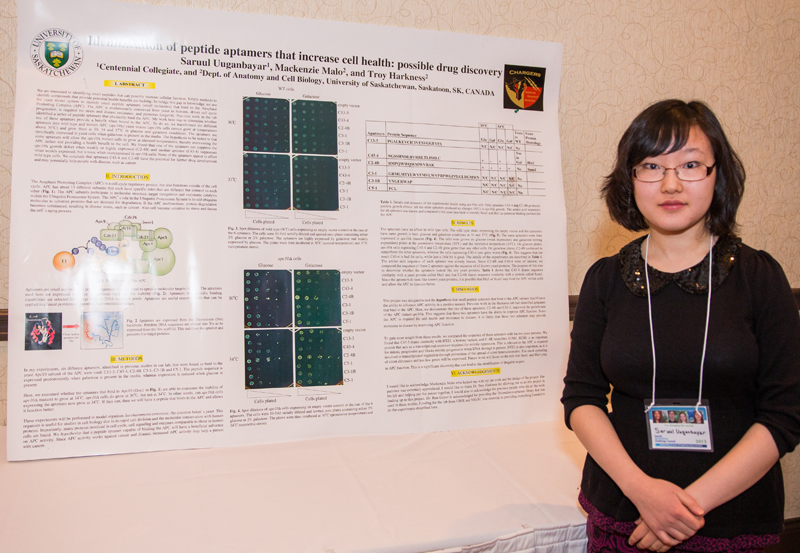 Saruul Uunganbayar
This years' Sanofi BioGENEius Competition Canada (SBCC) was a success with 14 students competing regionally on March 26th at the Agriculture building on the University of Saskatchewan Campus. The event was covered by Global Television. Winners were announced March 27th at the Awards Reception at the Hilton Garden Inn.
First place prize of $2200 and a trip to the National Competition in Ottawa went to Saruul Uuganbayar, a grade 12 student at Centennial Collegiate, for her work with peptide aptamers and APC in hopes to discover a drug to cure cancer. Matthew Zheng, Walter Murray took home the second place prize of $1400 for his work detecting Blackleg in Canola. He also won the Genome Prairie Award with this project. Deeksha Kundapur, Walter Murray, was the third place winner as she impressed the judges with carbohydrate research. Daniel Zhou, Greystone Heights won for the Juniors with his project on microwave heating and it's effects on fat.
Students have said they greatly enjoyed the experience of the SBCC, and it was a wonderful opportunity they will never forget. Many hope to return to the competition next year as they have had such positive experiences working with the wonderful mentors that drive the success of this program.
Related link: Discovery About Increasing Cell Health Wins Grade 12 Saskatoon Scientist Entry to National Finals of the Sanofi BioGENEius Challenge Canada …more Saskatchewan stories
Video: Interviews with 2012 SBCC students and their mentors