Nestled at the top of Paterson GlobalFoods Institute, the historic building that houses Red River College's School of Hospitality and Culinary Arts in downtown Winnipeg, is the Prairie Research Kitchen – a growing culinary research operation that has become an important resource for Western Canadian agri-food companies working to bring new products to market.
The proximity to RRC's culinary school is no mistake; it's the Prairie Research Kitchen's secret ingredient to success. Students and chef instructors work closely with the Prairie Research Kitchen's team of research chefs and food scientists, giving clients and partners the benefit of a large and diverse research team. The College benefits by offering hands-on training to the next generation of culinary professionals and food developers.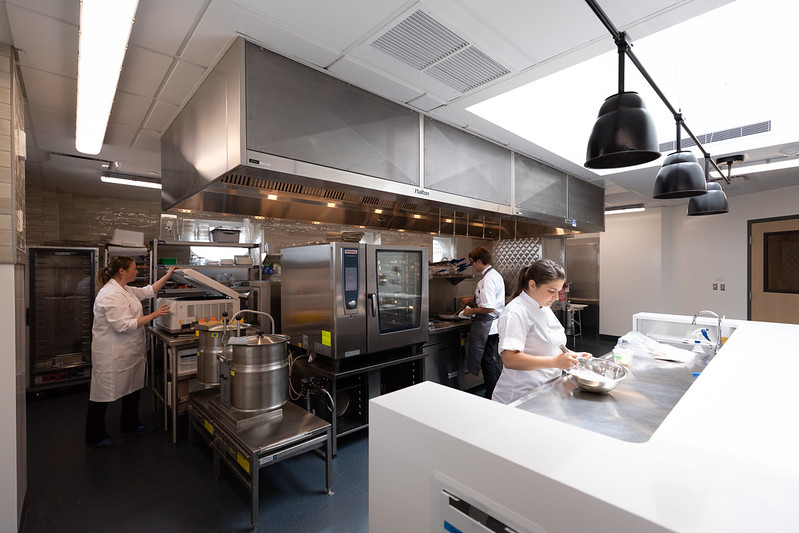 "It's really a win-win situation," says Mavis McRae, Director of the Prairie Research Kitchen. "Working with the School of Culinary Arts not only means there are more hands on deck for our projects, but we also get the additional talent and experience of chef instructors and students – making us an accessible option for small- and medium-sized enterprises. In return, students learn valuable skills they can take back to the classroom and into their future careers."
Culinary research and culinary arts: the perfect combination
The culinary research program at RRC started about seven years ago but operated out of existing spaces at the culinary school until 2019 when it became a Technology Access Centre (TAC) and officially opened its dedicated space. To date, the research team has worked with more than 70 clients on rapid prototyping, ingredient applications, consumer research trials, recipe development and food photography as well as helping companies access funding for R&D projects.
The Kitchen's modern, collaborative space is the perfect laboratory for the research team's unique blend of food science and culinary arts. Complete with modular spaces to accommodate project-specific equipment as needed, the space is furnished with everything clients need to take their products or service to the next stage of the food development process – including a demonstration kitchen, food quality lab, research and development kitchen, food styling studio ideal for food photography, and a boardroom for meetings, presentations and training sessions.
"In addition to our own facilities, our connection with the College means we can access other RRC departments to leverage additional resources," says McRae. "We can connect clients with skills and expertise in manufacturing, IT, business, life sciences, marketing and graphic design, to name only a few."
The Prairie Research Kitchen team has worked on a wide variety of food products but has developed a speciality working with plant proteins and pulse products in recent years.
"Western Canada is a great place to create plant protein products," says Heather Hill, Research Manager at the Prairie Research Kitchen. "This region produces high-quality plant-based protein, and with the Prairie Research Kitchen situated so centrally, we can really capitalize on using plant proteins in our food products."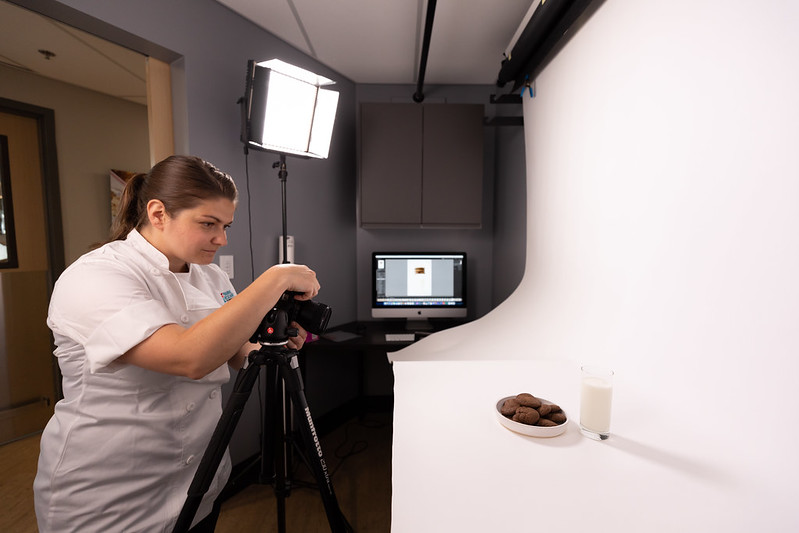 Working with Saskatchewan food companies
One such product comes from ulivit, one of many Saskatchewan-based companies the team has recently partnered with. Ulivit is a consumer-facing ingredients start-up that develops pea, lentil, and fava bean protein concentrates for use as meat alternatives, as well as textured pulse protein, tempeh, pasta, dairy alternatives and other consumer and restaurant products.
"We are thrilled with the Prairie Research Kitchen experience. The forward-thinking research students and chefs transformed our new soy-free chickpea and fava bean tofu into a variety of delicious and innovative recipes," says Laura Gustafson, Owner, ulivit. "From initial discussions with their enthusiastic team to the final recipes, the Research Kitchen's passion for working with plant-protein products was amazing and the outcome was fantastic."
One of the first Saskatchewan companies to work with Prairie Research Kitchen is Canadian Organic Spice & Herb Co. Their Splendor Garden brand of organic food products includes organic spices, herbs and seasonings as well as organic, gluten-free oats. They recently launched their Fish N' Fry line of three organic, gluten-free fish coating mixes.
"The Culinary Research team at the Prairie Research kitchen helped by creating a number of prototypes for us, such as our new Gluten Free Fish Coating," says Colleen Haussecker, Owner of the Splendor Garden brand. "The Research Chef worked with our team to bring our ideas to a tasty reality. We enjoyed working with them so much we've since started a new project with them." 
The Kitchen provides expertise in more than just food products. One of the College's mixology students recently worked on new products for Saskatoon's Black Fox Farm and Distillery.
"Having access to culinary and food science skills in one place is unique to our region. We really appreciate the perspective the culinary professionals and instructors bring to the team," says John Cote, Owner, Black Fox Farms and Distillery. "The mixology student we worked with was very professional and creative. We look forward to working with Prairie Research Kitchen again."
Getting involved with Interactive Visits
As a TAC – one of three at RRC – the Prairie Research Kitchen also supports SMEs by providing access to funding opportunities and Interactive Visits. The Interactive Visits provide eligible clients with up to 20 hours of research and development at the Kitchen including access to the research team, leading-edge equipment and facilities. This support is invaluable for small companies and start ups, which is why many clients' relationships began with interactive visits.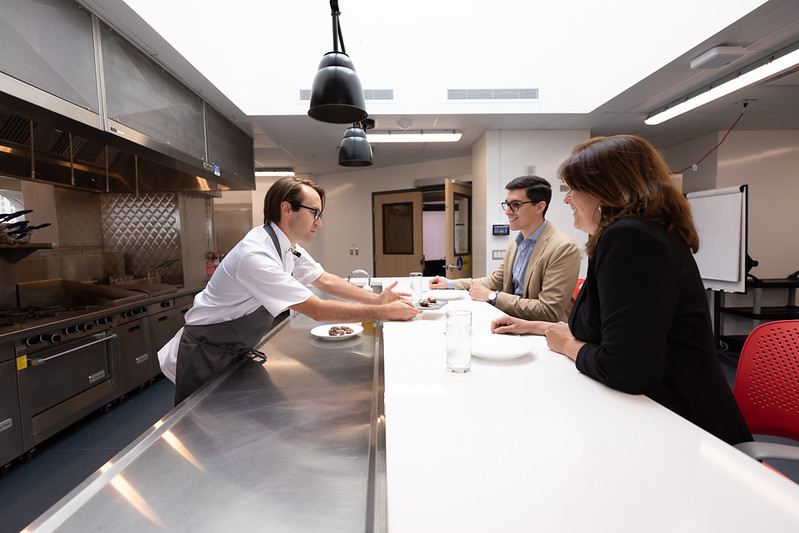 Photos courtesy of Red River College (taken pre-Covid-19)