When you walk into a Prairie Food Link meeting, you never know who you might run into. You might sit next to the executive director of a local non-profit, shake hands with the brand manager of a large retail organization, philosophize with the founder of a local micro-brewery, or get an update from a PhD student studying ingredient fractionation. The connections may not always be immediately apparent, but each person in the room has at least one thing in common: they care about growing the food and ingredient processing sector in Saskatchewan and are looking to connect and collaborate with other industry members.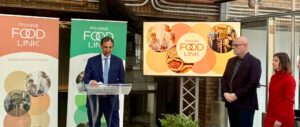 The recently launched Prairie Food Link (PFL) is a facelift and new identity for the more unwieldy title of the Saskatoon Food and Ingredient Processing Cluster, which has been creating connections and building capacity with the support of Prairies Economic Development Canada (PrairiesCan) since 2018.
Anyone involved at any level of the food and processing industry can become a member. Joanne Baczuk, Director of Ecosystem Development for Ag-West Bio, says, "Prairie Food Link includes for-profit, not-for-profit, academic, research facilities, accelerators, government organizations and member organizations, including Indigenous and regional economic development corporations."
Prairie Food Link is industry-driven and directed by a steering committee that includes Ag-West Bio, investment corporations, small and medium business owners, the Saskatchewan Food Industry Development Centre (Food Centre), retailers and government representatives. The steering committee, in collaboration with PFL members, has developed plans and terms of reference to support cluster-based economic development.
Baczuk says, "The sector and province benefit from this connectivity and collaborative approach. We are focused on developing a critical mass that will inspire others to want to join. We always support our members, but we are also always looking for opportunities to sell our story to a broader audience and attract potential new collaborators."
"As someone deeply invested in the Prairie food system from field to table, and a member of Prairie Food Link myself, I have been delighted and inspired by the depth and diversity of the people in the room at their monthly meetings – and by the potential for unexpected and synchronistic connections."
Devin Dubois, VP Legal & Regulatory at Blue Sky Hemp Ventures and member of the PFL Steering Committee, says, "Anyone in Saskatchewan who wants to do food manufacturing at a meaningful scale knows our audience is not in Saskatchewan. We're all pointed outward. It makes sense to foster 'coopetition' and work to build our capacity to serve national and international markets. There is no zero-sum game on the local level. It's a global system."
"We're here in Saskatchewan for a reason. We're here because we can grow crops more economically here than anywhere else in the world. In this geography, we should be friendly with each other in leveraging that. We can remain in a silo, but there's more opportunity if we go beyond that silo."
Looking beyond 2023, Prairie Food Link is looking for opportunities to connect with food processors and other industry supports across Saskatchewan. Baczuk is actively connecting with communities of all sizes to add more links to the chain: "There is strength in numbers; we hope to broaden our scope – make Saskatoon a hub with linkages throughout the province."
To strengthen the cluster, Dubois believes it needs to reach out to a broad group of processors – the middleman between producers, packagers and distributors. "The magic we find is in the small to medium processors in the region. If I'm a processor, and learn about the products others are making, and how to leverage those assets – what materials or technology they're using, from ingredients to packaging, to what to do with our byproducts – those are the groups that can benefit.
"I hope Prairie Food Link can become the primary forum for food and ingredient people, and a place for organizations within the region to find support, camaraderie, answers and opportunities that help improve their businesses. I find a lot of solace, support and opportunity within this group. Simply put, the more people we can get involved, the better we can be."
Photo: Dr. Abdul Jalil, ADM, PrairiesCan helps launch the new branding for Prairie Food Link, the Saskatoon and region food cluster, with Blair Knippel (PFL Chair) and Karen Churchill (president & CEO of Ag-West Bio) at the right.
Thank you to Prairie Food Link for submitting the article and photos