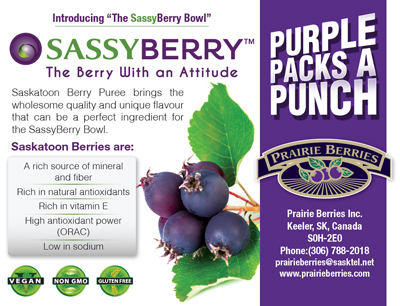 "I cannot believe how fresh that tastes; where can I buy it?" were just a couple of the comments from people who sampled Prairie Berries' new saskatoon berry puree at Natural Products Expo West/Engredea in Anaheim, CA in early March.
In addition to the positive comments, the product garnered accolades for the Saskatchewan company, earning the "Engredea Editors' Choice Awards for Best Whole-Food Ingredient" in the ingredient innovation category.
Sandra Purdy, president of Prairie Berries, says her goal at the show was to introduce the world's newest superfruit – saskatoon berries – with a trade name "Sassyberry" to natural health enthusiasts in the California market.
Purdy says the tradeshow was a tremendous experience: "It provided very valuable feedback for us in what would be needed to introduce the puree."
In the three days following the show, Prairie Berries met with potential buyers from smoothie shops, juice bars, yogurt shops and gourmet coffee houses that serve up acai bowls and fruit smoothies. Every shop took the time to make either a smoothie or a bowl using the puree, and the owners were optimistic that the product would go over great with their clientele.
Based on the success of the show and the interest in Sassyberry, Prairie Berries is gearing up to increase crop production, which will allow the company to increase sales in 2016.
Purdy believes the potential market opportunities that this product presents can also be replicated in Canada. "We will work towards introducing this same product in Vancouver and Toronto at similar health-focused tradeshows in late 2015 and early 2016 when we have sufficient supply," she says.