NRGene Canada has successfully mapped the clubroot resistance trait and developed efficient DNA markers
Canola is one of Canada's most valuable crops, contributing over $29.9 billion annually towards the Canadian economy. But a soil-borne disease is becoming a growing threat to canola.
Clubroot is caused by a parasitic protist called Plasmodiophora brassicae. Since 2003, clubroot infestation on the Canadian Prairies has been expanding exponentially. The disease affects the plant root structure and its ability to uptake nutrients, leading to significant yield loss. No chemical treatment is currently available to eliminate clubroot from the soil, leaving farmers with fewer and less desirable crop rotation options, and having a major impact on Canada's agriculture industry.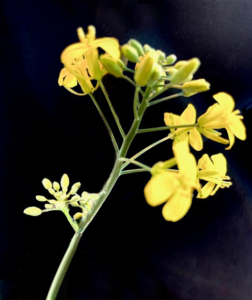 NRGene Canada is an AI genomics company with a laboratory in Saskatoon, SK. The company has successfully mapped the unique genomic locations of a previously-identified trait for clubroot disease resistance in canola – a major milestone that could save the canola industry billions of dollars by reducing yield loss.
DNA markers were also developed to enable trait integration into elite canola seeds. This makes it possible to create new canola varieties with high resistance against clubroot. Once these new clubroot-resistant varieties are available for planting, farmers could reduce yield loss by up to 90% in infected areas.
Dr. Masood Rizvi, general manager of NRGene Canada, says "Innovation and AI-genomics empower us to provide farmers with resilient clubroot resistance in canola, safeguarding both crop health and the environment."
NRGene has also developed DNA markers to enable the identification of clubroot resistant plants using simple PCR tests.
In 2021, NRGene's Canola-SNPro™ created a genotyping kit to speed up the development of DNA markers. Since then, leading seed producers have been using the kit for trait mapping and the development of new canola varieties, allowing seed producers to commercialize novel, disease-resistant canola seeds more quickly and at a lower cost, giving farmers a new defense strategy against clubroot.
NRGene opened its Saskatoon office in May 2020. Dr. Gil Ronen, NRGene founder and CEO, says "NRGene's activity in the heart of the Canadian Prairies for over three years is already paying off with the development of a natural and efficient solution to overcome this most devastating disease in canola and save local farmers billions of dollars from yield loss."
A provisional patent was recently filed by NRGene Canada to protect these high-resistance traits. With the support of the Canada Industrial Research Assistance Program (IRAP), NRGene Canada expects to complete the project by 2025. The company is seeking Canadian and global partners to ensure that varieties bearing these resistance genes are available to producers.
"By deploying cutting-edge technologies, we are building a sustainable future for Canola before the next agricultural pandemic strikes," says Rizvi. "We recognize the importance of preparing for future challenges in crop security, driven by emerging pathogens. It's not a question of if, but rather when."
About NRGene Canada
NRGene Canada is a wholly owned subsidiary of NRGene Technologies Ltd. (NRGene), NRGene is an AgTech company that uses AI and Big Data solutions to analyze genetic information to accelerate and improve the natural development of key crops and animals in the global agriculture and food industries.
NRGene Canada runs several IP development projects on top Canadian crops, such as canola, wheat, oat etc. Additionally, the company operates a genotyping services lab that supports the efficient and optimized development of novel, higher-yielding traits and varieties of crops and animals.

Photos:
Top: Masood Rizvi and team in the NRGene labs in Saskatoon. Credit: David Stobbe
Canola photo: submitted by NRGene