The prevalence and impact of Fusarium is spreading across the Canadian prairie provinces leading to concerns from industry around its potentially devastating impacts. Fusarium, a fungus found most commonly on plant debris and soil, has the potential to cause a variety of toxic effects to both humans and livestock, not to mention the economic impact stemming from a reduction in yield and grain quality.
Several Fusarium species that cause Fusarium head blight (FHB) are present in western Canada. These are of most concern to wheat and barley production where changing weather patterns, and more intensive farming practices have created increased potential for FHB. 
According to the Canadian Plant Disease Survey, in 2015 alone, FHB affected 34.0 and 77.3% of the spring wheat in Saskatchewan and Manitoba, respectively (Brar et al. 2016, Canadian Plant Disease Survey, 96:117-119; Henriquez et al. 2016, Canadian Plant Disease Survey, 96:131-133). A report from Alberta in 2010 estimated that losses from FHB ranged from 50 million to 300 million dollars annually (Howard et al., Alberta Agriculture Project Final Report, 2010). It's more important than ever to protect our crop from fusarium. 
While breeding efforts are underway to identify new sources of resistance and to develop varieties with improved resistance; identification, detection and monitoring of the Fusarium species complex are also important tools that can enable planting decisions and enhance quality assurance for domestic and export markets.
There is a lack of sensitive, rapid, high-throughput DNA-based tests to detect and monitor the Fusarium species complex in infected tissues and to unequivocally distinguish among the Fusarium species and the chemotypes (strains producing different types of toxins) prevalent in western Canada. Many of the existing diagnostic laboratory tests for fusarium species identification require samples to be tested on selective growth media for spore identification by trained laboratory personnel and can take around seven days to obtain results.
Identification and detection of Fusarium in seeds will attest to the phytosanitary status of seed for planting. Identification and quantification of Fusarium in seed may enable decisions around processing grain as food or animal feed, as well as providing quality assurance for our domestic and export markets. DNA-based monitoring for Fusarium dynamics under field conditions will also help with disease forecasting and prediction, and enable more rapid decision making for fungicide application. Although high Fusarium inoculum in field stubble does not necessarily translate into increased disease, the potential for outbreak can be predicted and monitored.
With funding from the Saskatchewan Ministry of Agriculture's ADF Funding and the Canada-Saskatchewan Growing Forward 2 bi-lateral agreement, and the Western Grains Research Foundation, the Saskatchewan Research Council (SRC), in collaboration with the University of Saskatchewan and Agriculture and Agri-Food Canada (Swift Current), have investigated sensitive DNA-based assays for Fusarium species in an effort to provide industry with rapid detection of Fusarium. DNA sequencing of the genome of several Fusarium species enabled the identification of Single Nucleotide Polymorphisms (SNPs) for detection of F. avenaceum, F. culmorum and F. graminearum and the chemotypes producing 3-Acetyl-Deoxynivalenol, 15-Acetyl Deoxynivalenol and Nivalenol. Subsequently, quantification methods were developed for the Fusarium species. The technology developed through this project provides an understanding of not only the type of Fusarium producing toxin present in plant tissue or soil, but also the level to which the sample is contaminated based on DNA quantification of the respective Fusarium species.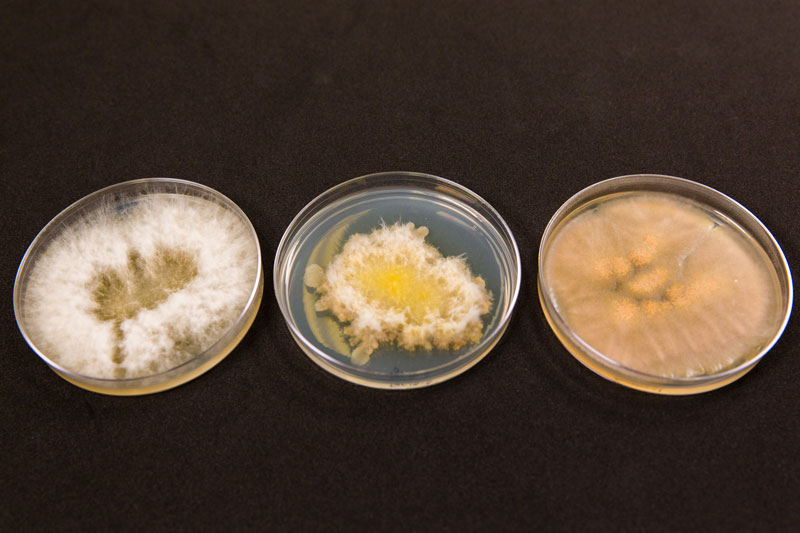 The outcome of the research project is the development of a test for wheat producers, the grain handling industry and researchers that will identify and quantify Fusarium species present in plant tissue samples with a significantly shorter turn-around time than what was formerly available. Test results are expected to inform seed selection and fungicide application decisions and to enhance quality assurance for the grain industry.
While we cannot yet prevent FHB spread, combined with good agricultural management practices this new tool has the potential to enhance our vigilance for Fusarium occurrence and enable sound decision-making for mitigating losses to FHB.
The project was led by Dr. Pooba Ganeshan, Senior Scientist at the Saskatchewan Research Council, along with collaboration from Dr. Ravindra N. Chibbar, Professor & Canada Research Chair, Department of Plant Sciences, University of Saskatchewan, Dr. Randy Kutcher, Professor, Department of Plant Sciences, University of Saskatchewan and Dr. Myriam Fernandez, Research Scientist, Agriculture and Agri-Food Canada, Swift Current.