After some tough farming years in the early 2000s, Kevin and Kathy Johnson started looking for ways to make a living that would allow them to stay on their farm near Spalding, SK. What began as a foray into growing herbs and spices – like coriander, caraway and borage seed – eventually evolved into a value-added edible oil and nutraceutical company with an international reach.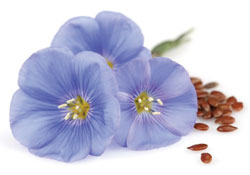 Northern Nutraceuticals is a many-faceted business that processes borage, hemp and flaxseed for health industry applications. They ship seed and oil as bulk ingredients to health food manufacturers, provide co-packing and private label production at their facilities, and also have their own retail line: NorthernEdge oils, protein powders, hemp seeds and milled flax. 
"It was a very steep learning curve the first couple of years. We made one drum of oil and then did an internet search for borage oil. We sent over 300 faxes to people working with borage oil and got back five responses. We eventually did significant business with two of those companies, and we haven't looked back since," says Kevin. 
Northern Nutraceuticals built a processing plant in the village of Spalding. They source their seed from surrounding conventional and organic farmers. While they sell their retail products locally and in health food stores across Western Canada, 75 per cent of their product is exported outside North America. 
"We're always trying to diversify our operation instead of having all our eggs in one basket. Bulk sales bring in more revenue than the retail side of things, but we chose to acquire a flax milling business in 2010, and we want to keep working with both retail and wholesale markets. 
"Living in central Saskatchewan, we're in the midst of prime agricultural land, both conventional and organic. We bring in raw material from all three provinces, but being right in the middle of farmland is a huge plus. Canada has a global reputation for a clean environment and safe agricultural products, and our international visitors are amazed at our wide-open spaces." 
While limited human resources in our sparsely populated province can be an issue for value-added businesses, Johnson hasn't found that to be an issue. "We have no problem finding staff. There are many people that only want to work part-time, and we can offer that. There are several industries within a 40-mile radius, so there is a good density of employers and employees." He notes freight as another potential drawback, but it has not held back the business in any significant way.
Johnson appreciates the support of the Saskatchewan Trade and Export Partnership, which was a huge help in getting their products into various markets around the world, attending trade shows and business-to-business meetings, and getting them established. Northern Nutraceuticals is a new member of Ag-West Bio, joining after their marketing director attended the Agri-Value Training program. 
With 18 years of experience in the value-added food sector in Saskatchewan, Johnson has some advice for those just starting out. "When we first started in this business, there was no such thing as HACCP, ISO designations, GMO certification, and so on. There was only an organic certificate. Now you have to have so many accreditations to be in the food business. Food safety is a high profile issue, and the accreditation is expensive, time consuming and involves tons of paperwork. We are required to have a dedicated quality assurance staff person as part of the accreditation. 
"Consumers look for this accreditation. Most buyers are demanding accreditation that shows due diligence. It's challenging for small companies trying to get into the market. The paperwork definitely isn't my favourite part, and had I known where the industry was headed when we started out, I might have thought twice about it. It's serious business, but rightfully so. Even with all that, value-added production can certainly add to your profit margins."
Johnson's level-headed approach to business comes from years of experience. "There's always some sort of challenge in the market. The stress can get overwhelming. Right now it's COVID-19. To new startups I would say, have some patience, go at it one day at a time, and do the best you can."
This article was written for AWB's 2020 annual report.