by Jackie Robin

On September 22, 2015, Saskatoon Nutana Rotary Club and Meewasin hosted a ceremony to unveil a

brick dedicated to Nobel Peace Prize Laureate, Dr. Norman Borlaug

. The Father of the Green Revolution, Dr. Borlaug believed that the most advanced knowledge and technology should be used in battle against hunger and poverty.

The following is the transcript of a speech presented by Ag-West Bio at the ceremony.

………………………………………………………………………………………………………………………………….

The story of Norman Borlaug is a story of food, farmers and science.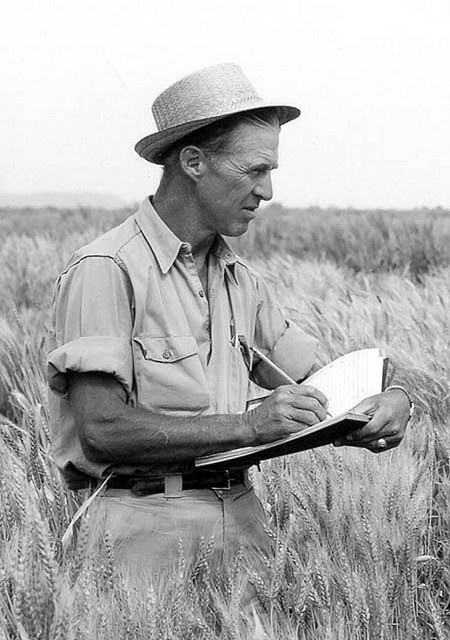 Norman Borlaug was born in 1914 and grew up on a farm in Iowa. His early education was in a one-room school house and he went on to study at the University of Minnesota. It was the middle of the Great Depression, and he worked on depression relief programs to finance his education. The hardship and hunger he witnessed affected him deeply.
After earning a PhD in plant pathology, the young scientist was invited to Mexico by the Rockefeller Foundation to help with their wheat program. He found that the wheat they were growing was susceptible to disease and didn't produce much grain. So Borlaug set out to develop better varieties.
For 20 years, he worked in the fields alongside farm workers and students, hand breeding tens of thousands of varieties. And he and his colleagues perfected high yielding, disease resistant, dwarf wheat. Thanks to his work, Mexico went from not having enough wheat to exporting its surplus.
In the '60s, there was a population explosion in Asia, and farmers couldn't keep up. Mass starvation was predicted. Norman Borlaug was called in for advice. He brought his knowledge to the Middle East and Asia. And he insisted that modern technologies be used.
Because Norman Borlaug shared his knowledge, farmers were able to grow enough to feed the people. His work was called a "Green Revolution." It's estimated that he saved 245 million lives.
His work was recognized with the Nobel Peace Prize in 1970; the Presidential Medal of Freedom in 1977; and the Congressional Gold Medal in 2006.
I was lucky to meet Dr. Borlaug's granddaughter, Julie, when she was here last October to speak at the Agricultural Bioscience International Conference. She's the Associate Director of External Relations at the Norman Borlaug Institute for International Agriculture.
Julie sent the following message:
………………………………………………………………
"On behalf of my grandfather and the Borlaug family, thank you so very much for this honor. I enjoyed my visit to Saskatoon last year and I am sorry that I can't be there in person today.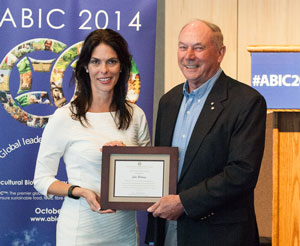 I had the great pleasure of working closely with my grandfather at the Borlaug Institute.
His passion and devotion to feeding, as he would say, the "hungry and miserable" was truly amazing and inspirational. He never faltered or tired of this life long battle.
The Borlaug Institute's goal is to carry out my grandfather's legacy through teaching, extension and research. We design sustainability programs and coordinate training for international agricultural leaders from developing countries. Currently, we have projects in Rwanda, Congo, Iraq, Indonesia and Guatemala.
My grandfather was a scientist, and a warrior against hunger. But first and foremost, he was a teacher and mentor.
His passion for training the next generation was, in my opinion, one of his great accomplishments. Had it not been for the young researchers and farmers my grandfather trained, who were willing to adopt new technologies and farming systems, there would have never been a Green Revolution. He called them "hunger fighters." He said to them "I am going to teach you to be warriors against hunger, not with guns and daggers but with science and technology."
He was a fierce advocate for innovation and technological change. He often said "the fear of change is the greatest obstacle to progress."
We have a huge challenge in front of us: How to sustainably feed nine billion people by 2050.
This challenge will require new economic and political policies, innovation and technological advancements. It will depend on the actions of the next generation of entrepreneurs, scientist, researchers, policy makers and farmers. These hunger fighters must embrace technology, creativity, bold ideas and collaboration. This is the only way we will achieve a food secure world.

My grandfather received the 2002 Rotary Award for World Understanding and Peace. Upon receiving the award, he said "I am a firm believer that education is necessary to overcoming poverty and achieving world peace. Rotary International has made important contributions to individual excellence and advancement through its various scholarship and ambassador programs."
So, on his behalf, thank you for this honor and all that you do to train the next generation and the over-all service of Rotarians."
………………………………………………………………
Inspiring words; ones that resonate here in Saskatchewan. Today, our farmers have a wide variety of crops that grow well in our challenging climate. But this was not always so.
Our farmers' success is built upon more than 100 years of research at the University of Saskatchewan's Crop Development Centre, Agriculture and Agri-Food Canada, and the National Research Council, along with private companies that continue to improve agricultural products.
I'll point to just a few examples:
• Wheat isn't native to the province. King Wheat was borne of decades of research that continues today. Some of the best wheat scientists are right here in Saskatoon.
• Canola did not exist as a crop until our own Dr. Keith Downey and his colleagues transformed industrial rapeseed into the healthy edible oil crop we have today.
• For those who appreciate a cold beer on a hot day, know that the world-standard for malting barley was developed right here, by Dr. Bryan Harvey at the U of S.
• Pulse crops like chickpeas and lentils were unknown on the Canadian Prairies until our researchers developed varieties that could thrive here. Now Saskatchewan is one of the world's largest exporters of pulses.
Based on this expertise, the Global Institute for Food Security was launched here to build on Saskatchewan's strength in crop production and food systems to support global food security initiatives.
As Norman Borlaug knew, progress in agriculture is based on constant improvement, from better yielding varieties to new strategies to control pests and resist harsh weather.
Yet some people continue to have a romantic view of what farming was like in the "olden days:" Idyllic scenes of milking cows by hand and home-baked bread.
But farming was really hard. Crops often failed, with devastating results.
Norman Borlaug sometimes encountered environmental lobbyists who didn't like the idea of fertilizers and pesticides. His response reflects the passion he brought to his work:
"Some of the environmental lobbyists of the Western nations are the salt of the earth, but many of them are elitists. They've never experienced the physical sensation of hunger….If they lived just one month amid the misery of the developing world, as I have for 60 years, they'd be crying out for fertilizer, herbicides, irrigation canals and tractors, and be outraged that fashionable elitists back home were trying to deny them these things."
Agricultural biotechnology gives us hardier crops, better and safer pest control, higher yields, and better nutrition. With increased yields, we don't need as much land to grow our food. Since the early 1900s, production has more than doubled for most crops.
We can be proud of what our scientists have achieved, and what they continue to strive for.
So when you go to the grocery store and you see the amazing quantity and variety of food available to you, do, as they say, thank a farmer. But also, thank the scientists, who, like Dr. Norman Borlaug, make feeding people their life's work.
Photos:
Top: Norman Borlaug, source: Texas A&M
Middle: Julie Borlaug and Bryan Harvey at ABIC 2014
Bottom: Saskatoon students gather around the newly installed brick dedicated to Norman Borlaug at the Rotary Peace Plaza.