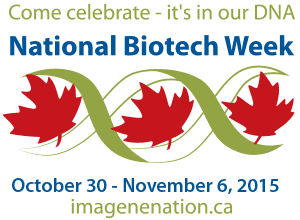 Saskatchewan takes National Biotech Week seriously. After all, biotechnology makes our lives better and easier, from health technologies, to hardier crops, eco-friendly products and cleaning up the environment.
So we host events with names like the Walking Dead Dance, the Amazing Biotech Race and Biotech & Beer. Because we figure the best way to get attention is to have a little fun.
Ag-West Bio coordinates Biotech Week activities in Saskatchewan, with a committee drawn from Saskatchewan's bioscience organizations. This year was the 11th National Biotech Week. The Government of Saskatchewan and cities of Saskatoon and Regina proclaimed October 30th to November 6th as Biotech Week in Saskatchewan.
Wilf Keller, Ag-West Bio president and CEO, says "It is important for the public to appreciate the role of biotechnology in our lives. Biotechnology has had a positive impact on agriculture, environment and health sectors. The events organized in Saskatchewan during Biotech Week create fun opportunities to learn more, and celebrate science in Saskatchewan."
Activities included industry and outreach events in Saskatoon and Regina.
At the Walking Dead Dances, middle-years students learned about preventing infectious disease through proper hand washing from a public health nurse, and about vaccines from two VIDO-InterVac graduate students. A science café at Winston's Pub, downtown Saskatoon featured Agriculture and Agr-Food Canada soil scientist Barbara Cade-Menun (also president of the Canadian Society of Soil Science) who presented "Don't treat soil like dirt!" The Saskatchewan Science Centre in Regina hosted a second science café, where Abdul Jalil of the Ministry of Agriculture presented "AgBiotech: the Science and Benefits."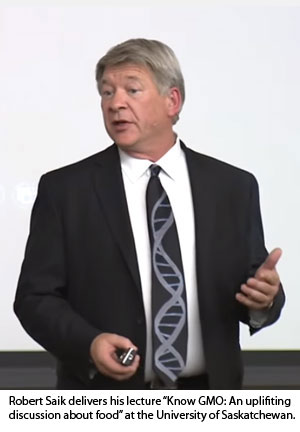 A public lecture by Robert Saik, CEO of Agri-Trend at the University of Saskatchewan in Saskatoon attracted 200 people. The audience was a mix of students, researchers, health professionals, farmers and others in the agricultural industry, along with those who were just curious or concerned about food.
Saik's talk addressed a number of agricultural biotechnologies, but focused on genetic modification. He says with existing technologies, we already have the capability to feed everyone on the planet, even if the global population hits the predicted nine billion. "The real question is will agriculture be allowed to feed nine billion people?" Saik is also executive producer of a movie also entitled Know GMO. He took advantage of his podium time to encourage the audience to visit the movie website to make a donation. A video recording of his presentation can be found here.
Janice Tranberg, executive director of SaskCanola, was MC for the event. SaskCanola is also releasing a video, encouraging producers to speak up and protect their social license to use agricultural technology, entitled "License to Farm." The trailer can be found here.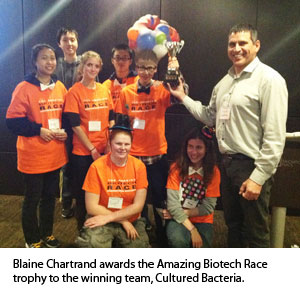 The Fifth Annual Amazing Biotech Race at Innovation Place included 75 students, comprising students from Saskatchewan Polytechnic BioScience Technology Program and from Evan Hardy, Nutana and Bedford Road Collegiates. Nine Saskatoon bioscience companies acted as checkpoints.
Teams in costumes, and with names like "Noble Gasses," "Hydrophilic Molecules," and "Kings of Science," competed for the coveted trophy, prizes (and bragging rights). They completed lab "challenges" and answered skill testing questions in order to pick up the next clue and complete the race. The trophy went to Cultured Bacteria; NucleoTides took second, with a 3rd place tie between Designer Genes and Particles in Motion.
A reception after the race gave students time to visit with representatives from the participating companies. Jeremy Lang, president of Open Mind Developments (OMD), spoke to the students about his experience as an entrepreneur in the bioscience industry. His business idea took hold when he was nine years old and he noticed flax straw burning in a field. He was sure there could be a use for it. Today, his company turns bio-based waste materials, like flax straw, into biodegradable products, such as the Pela™ case for iPhones. His message to the students: Dream big, take action and do your part to make things a little better.
Blaine Chartrand, Program Head, BioScience Technology, School of Animal and BioSciences at Saskatchewan Polytechnic and creator of the event, says, "We are grateful to the companies who open their doors to the students. It's a fun way for our students get to meet potential employers, and for the high school students to get a glimpse of what these companies are doing – it could nudge them towards a career in science."
Over 100 people attended the final event for the week – the 7th annual Biotech and Beer – an industry networking event held at Boffins Public House, Innovation Place in Saskatoon. This year's theme was Biotechnology and the Environment. Presentations were by Meghna Malik (Metabolix Oilseeds), Phil Stephan (Sask Research Council) and Monique Haakensen (Contango Strategies). The potential for cross-over between agricultural technologies and environmental sciences was explored, along with information about what these three Saskatchewan companies are up to. Mayor Donald Atchison praised the hard work and ingenuity of the researchers and noted the important role the bioscience sector plays in the city.