On September 24th we were pleased to welcome Mark Lynas to Saskatoon as a guest lecturer during National Biotechnology Week. Mark Lynas is an environmental author and campaigner.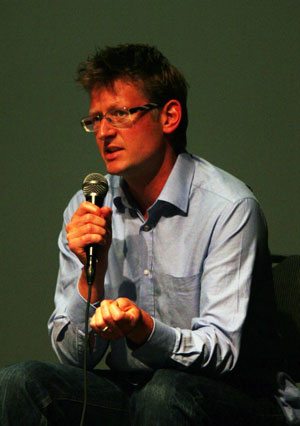 In July, he published Nuclear 2.0: Why a Green Future Needs Nuclear Power. His most recent book in print is The God Species, tracing how humanity must respect the Earth's biosphere to keep the planet habitable. His previous two books, Six Degrees and High Tide, focused on global warming.
He was until recently advisor to the President of the Maldives, as well as being a visiting research associate at Oxford University's School of Geography and the Environment.
In Saskatoon, Lynas' day began with a breakfast lecture for agriculture ministers gathered from Canada, the U.S and Mexico for the Tri-National Accord.
An interview on NewsTalk 650 with John Gormley helped to entice a few extra people to attend an evening lecture at the Broadway Theatre. Lynas then made a stop at the Johnson Shoyama Graduate School of Public Policy at the University of Saskatchewan (U of S), where he spoke to 40 students about the importance of science being the foundation for policy.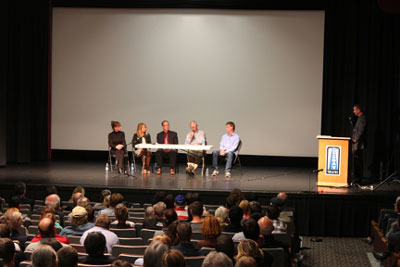 The main event of the day was the public lecture at the Broadway Theatre. With more than 350 people in the audience, the goal of bringing information about biotechnology to the public was met. Wilf Keller, president and CEO of Ag-West Bio, welcomed the audience and introduced Mark.
A panel consisting of Cami Ryan( U of S), Janice Tranberg (CropLife Canada), Stuart Smyth (U of S), Wallace Hamm (ProCert Organics), along with Mark Lynas, engaged in a Q&A moderated by Chris Barker (Chief Scientific Officer at Genome Prairie). Questions submitted in writing that were not answered by the end of the evening are posted here, with answers.        
Watch the full video and Q&A