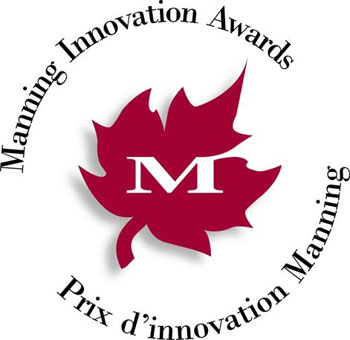 Three Saskatchewan entrepreneurs have been nominated for the Manning Innovation Awards, one of the top prizes for innovation in Canada. Ag-West Bio, Ernest C. Manning Awards and Innovation Saskatchewan are hosting a networking reception in their honor. The nominees:
Mr. Darrin Craig – DYNABOLTER DynaIndustrial has designed and developed a roof-bolting machine that has improved the overall safety and efficiency of the roof-bolting process. By allowing machine operators to fully control the bolt installation process from the safety of the DynaBolter cabin, the operator is secured and kept away from the unsafe mine roof. The DynaBolter boasts numerous advanced features such as its intuitive controls, multiple-bolt carousel, semi-automated epoxy injection, and versatile low-profile design. These innovative benefits contribute to machine operator safety, mine operations productivity, and brands DynaBolter as a bench-mark in the global mining industry.
Dr. Debbie Haines – HIGH QUALITY BOVINE DRIED COLOSTRUM POWDER It is critical that calves ingest high quality colostrum that is free from disease causing agents within the first hours of life to transfer immunity to the calf and maximize survival. Dr. Haines has developed and standardized methods that produce a high quality colostrum replacement powder to supplement or replace maternal colostrum that is stable, safe, effective and convenient to use. The technology for this product has been commercialized by the Saskatoon Colostrum Company Ltd., the only colostrum manufacturer in Canada and an exporter of colostrum powder to international markets.
Mr. Greg Sutton & Mrs. Marnee Brick – SPEECH THERAPY TECHNOLOGY TinyEYE Therapy Services has successfully created and commercialized a world class telehealth application that enables Speech-Language Pathologists (SLPs) to treat patients in rural and remote schools. The fully-integrated telehealth platform and software designed specifically for paediatric SLPs serves the needs of students in schools with hard-to-fill SLP vacancies. The organization has grown to provide online SLP services on a global scale spanning 12 countries and 5 languages, with over 100,000 online speech treatments delivered to date. TinyEYE's vision is to be the number one advocate in the world for children finding their voice.
Wilf Keller, Saskatchewan Regional Chair for the Manning Awards Foundation, is thrilled that these companies will represent the province for this prestigious innovation award. "It's very exciting when great ideas grow into successful companies. These three nominees are examples of the Saskatchewan spirit of innovation. I wish each of them luck in the national competition."
The Ernest C. Manning Awards Foundation, named after the late Alberta Premier and Senator has been recognizing and encouraging innovators in Canada since 1982. The Foundation's mandate is to encourage and recognize Canadians of all ages with the imagination to innovate and the stamina to succeed. The Foundation annually awards a Principal Award of $100,000; and Award of Distinction of $25,000 and two Innovation Awards of $10,000 each.
Winners are chosen by an independent selection committee. Past Saskatchewan award winners include James Halford, Stanley Isbister, Dennis Mraz, Brian Olson, Dennis Johnson. Visit www.manningawards.ca for more information.
Event details: Tuesday May 7, 2013 5:00 to 7:00 pm Caucus Board Room #218 Legislative Building 2405 Legislative Drive Regina, SK If you would like to attend the networking reception, please contact Lana Mollard: lana.mollard@agwest.sk.ca 306-668-3585