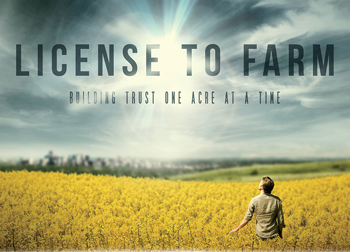 SaskCanola's film project, License to Farm, received multiple awards at the Canadian Agri-Marketing Association's annual "Best of CAMA" awards night held in Calgary on November 4th. The annual gala celebrates the best in Canadian agriculture marketing, advertising, and communications.
License to Farm was led by SaskCanola in partnership with the film production company, Berteig Imaging, and the film promotion agency, AdFarm. Since its launch in January of 2016, the video has been viewed over 79,000 times on YouTube in over 165 countries and has garnered over two million social media impressions.
The documentary won three category awards, a certificate of merit, and three "Best of Show" awards:
• Winner: Crisis Communications, Issues Management, and Government Relations
• Winner: Video targeted to external audiences
• Winner: Total Campaign $100,000 or less
• Certificate of Merit: Social Media
• Best of Show: Public Relations Programs
• Best of Show: Marketing and Communication Campaigns
• Best of Show: Electronic Media
SaskCanola Executive Director, Janice Tranberg, says her organization is thrilled that License to Farm has been recognized by the Canadian Agri-Marketing Association. "We knew the film was a quality production but never imagined the impact it would have, so to see its success acknowledged by our peers is truly inspiring."
Tranberg says in the coming months SaskCanola plans to release several extended interview clips with some of the key experts featured in the full length film.
SaskCanola is a producer led organization, established in 1991 and supported by some 26,000 levy-paying Saskatchewan canola producers. SaskCanola's mandate is to grow producer prosperity through advocacy, research, and market development.
Join #LicenseToFarm at licensetofarm.com or follow @LicenseToFarm on Twitter, Instagram, or Facebook.