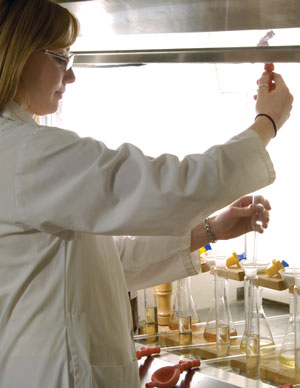 Saskatchewan bioscience companies in need of the latest research expertise need look no further than Mitacs-Accelerate. This national program connects companies with graduate students and university faculty members through short or long-term research projects aimed at addressing a company's need.
During a Mitacs-Accelerate internship, a highly-skilled graduate student or postdoctoral fellow spends approximately half of his or her time onsite with the company – collecting data, interacting with staff and gaining a thorough understanding of the research challenge; the balance of the intern's time is spent at the university, developing innovative approaches to solve the challenge.
For each four-month internship unit, the company must contribute $7,500. But not to be missed is that Mitacs-Accelerate matches a company's contribution dollar-for-dollar; a $7,500 investment instantly becomes $15,000.
This is made possible through the support of the Government of Canada, the Networks of Centres of Excellence's Industrial Research and Development Internship program, Western Economic Diversification and the Government of Saskatchewan. For larger projects, Mitacs-Accelerate Clusters offer a unique solution; these involve multiple students, disciplines, universities and company partners and can span several years, maximizing the company's contribution.
Interested companies should visit www.mitacs.ca/accelerate or contact at Chris Bowman at cbowman@mitacs.ca for more information.
Accelerate is administered by Mitacs, a national, not-for-profit research corporation which connects academia and industry through collaborative research projects. For more information, visit www.mitacs.ca.