by Sanj Singh
Projections show that in Saskatchewan, Alberta, British Columbia and New Brunswick government health spending is on pace to consume 50 per cent of revenues by 2017 (Fraser Institute, 2011). Status quo health care is not sustainable; however it does create opportunities for valuable solutions.
How does Canada position itself to grow our market share within healthcare products and services to address this burden?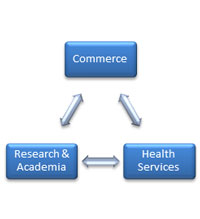 The key to wealth creation is innovation, and like biological systems that require a balance, we must be mindful to maintain it in the innovation ecosystem. To nurture the innovation ecosystem requires the right leadership, funding, policy, education and culture.
Technological breakthroughs, life saving devices and other health innovations are priceless. They are also economic engines, capable of building successful firms, industries and economies. To capture more of the 80 to 95 per cent of the health innovation value chain happening outside of Canada, Saskatchewan must translate basic discovery into treatments for patients here and then export nationally and globally. The recent announcement by the College of Medicine at the University of Saskatchewan should be embraced. Leading medical centres incorporate research as part of the norm and attract star clinician scientists with their full entourage (i.e. best and brightest grad students, capital for development, industry partnership, NGOs, Foundations, etc.). It leads to innovation and better and more efficient care for patients. It also builds a vibrant health innovation sector and provides opportunities for discoveries from academia to move beyond the lab bench.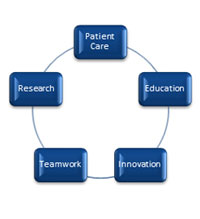 In a soon to be released white paper commissioned by the Greater Saskatoon Chamber of Commerce entitled 'Why Health Innovation Matters', I refer to two initiatives that are designed to build and attract a medical innovation industry that develop products and services to serve local markets and can scale globally: Proof of Concept centre or Translational Research Institute which tests and develops products in patients; and a Model of Medicine used by top medical centres which embrace the pillars of innovation, teamwork, research, education and service.
This requires collaborative efforts among the business and finance community, clinical scientist community (academia), health regions and other related agencies. Policymakers, technology entrepreneurs and healthcare innovators must work together to create the right tax and business incentive environment to encourage early investment to help grow medical innovation companies.
Innovation is the key to economic growth. Saskatchewan is blessed with an infinite natural resource – the knowledge and ingenuity of its people – in addition to a health sciences infrastructure that is second to none. To extract value from the hundreds of millions spent requires entrepreneurial thinking, collaboration and passion.
To kick off the health innovation initiative:
Stanford and Cleveland Clinic trained neurosurgeon, Dr. Michael Kelly (now practicing in Saskatoon) and his mentor Dr. David Fiorella (Stony Brook Medical Center, NY), will share how medical research can build medical innovation companies in Saskatoon at a luncheon on May 24th.