by Michael Robin, U of S Communications
Advances in science depend not only on discovery but on public policy that allows them to be developed into products people can use, explains Meritt Kocdag, a research assistant with the Johnson Shoyama Graduate School of Public Policy (JSGSPP).
Kocdag recently took silver in the Student Thought Leadership competition of the Institute of Public Administration of Canada (IPAC) for her presentation on how to best regulate the emerging and extremely promising field of synthetic biology. She received her bachelor's degree with honours in public administration from the U of S this spring.
"Synthetic biology is a really good opportunity right now because so much of the research is being done in Canada," she says. "But it's being held back by us not really having a designated regulatory framework to help commercialize outputs."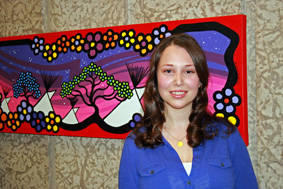 Kocdag grew up in Saskatoon, in a home where service to the community is held in high regard. This guided pursuits such as studying law and participating in the debate team at Walter Murray Collegiate before she came to the U of S, drawn by attractive scholarships and opportunities to study public policy.
"My family has always been really big on volunteering and public service, recognizing where you've been lucky and contributing," she said. "As I got older and learned more nuances about how government works, I thought, 'I really want to be one of those people that fixes things and prevents things,' and I really like the idea of that as part of citizenship and making a better Canada."
The U of S is one of very few universities that offer an undergraduate program in public administration, Kocdag explains, which meant she was competing against a field of graduate students from across the country.
"It was a little nerve wracking," she says. "I don't have Master's-level research to present, so it was a little intimidating being in that environment, seeing people who've really dedicated years of their lives to this."
She was initially reluctant to tackle synthetic biology – it was the last topic left to her during a summer job at the JSGSPP in 2013 under the supervision of Professor Peter Phillips.
"I put off synthetic biology to the end, because I couldn't quite figure out what it was," she says. "Then I realized that's generally the issue with it: no one can figure out what it is, exactly. Then I started reading what we could gain from it and I got really motivated."
Kocdag cites an example of a Calgary team working to isolate the active compounds in opium with the goal of producing common painkillers such as codeine without the need – or ethical problems – of opium poppies. Another team in Toronto is looking at reducing the allergenicity of peanuts. Closer to home, U of S and National Research Council researchers were part of an international team that developed a new way to produce the key antimalarial drug artemisinin faster and more cheaply using yeast.
"These are huge value addition to lives of Canadians," she says. "I think you'll see a lot of public benefit if we can commercialize these outputs."
Realizing these benefits requires a multi-faceted approach from universities, regulators and governments, Kocdag explains. This includes ensuring that a strong ethics component is included in biochemistry and computer sciences classes.
"Synthetic biology is extremely accessible compared to most biotech," she says. "Within the next five years most likely anyone with a bioengineering degree will have access to the computing technology and the knowledge necessary to do it."
With such a rapidly evolving field, governments will need to move more quickly than they're accustomed to. Kocdag explains that existing rules, such as those for novel plants or drugs, don't fit well with synthetic biology. This means regulatory oversight might look at or assess things that aren't issues with the new technology, and miss issues that actually do exist.
"It really is a challenge because synthetic biology is evolving so quickly," Kocdag says. "The government of Canada doesn't even have a formal definition of what it is yet. I would say they should take any definition at this point, even if it's something vague, because it does evolve so quickly. We really need the new regulatory framework."
Regulation and education aside, synthetic biology could also face challenges in the arena of public perception, something that also requires immediate attention.
"It's really important for scientific experts and government regulators to take a really strong obvious stance very soon," Kocdag says. "Otherwise you end up in a situation where non-experts, media, and media hype can really take power away from the technology and the community."
On a personal level, Kocdag is working to help wrap up VALGEN, a major Genome Prairie project led by Phillips exploring how Canada can benefit from applications of agricultural genomics. Inspired by her award and exposure at IPAC, she's looking toward further work and graduate studies in public policy.
"I found it pretty inspirational and motivational to see what people are doing, and how much innovation there really is in the public sector right now," she says. "There's so much passion for continuing to work on Canada and to improve it."