Another year, a different look for Global Biotech Week 2021. The annual celebration of science in Saskatchewan included a variety of new events. A mixture of online and in-person activities offered flexibility to attendees and opened up new collaborations with local organizations. (We hit 'record' on the online events so more people could enjoy the talks! Find the videos embedded below.)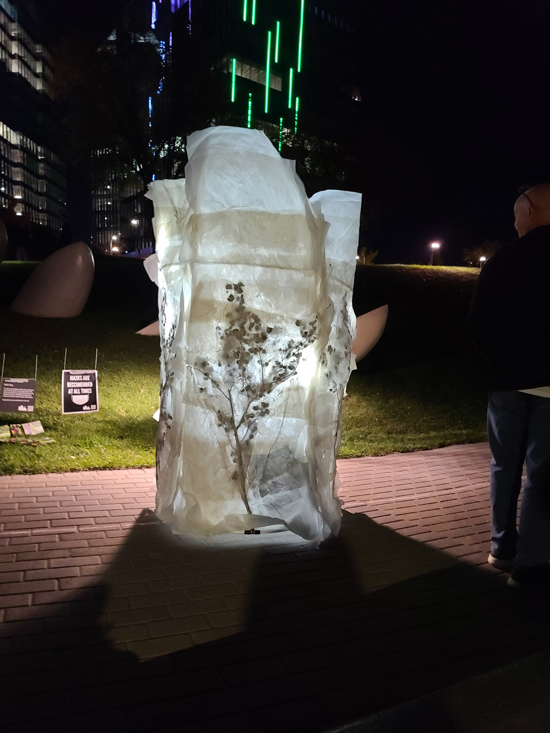 A celebration of science, biotechnology and art kicked off the beginning of the week. This exciting partnership with the yearly night-time art festival Nuit Blanche showcased the work of Regina artist Karlie King. King's art combined the branches of Saskatoon berry bushes with layers of paper to create an ethereal glowing lantern that was worn by the artist. The delicate integration of nature and material illustrates curiosity, dedication, and the creative thinking that is necessary for both artistic work and scientific discovery.
Ag-West Bio also welcomed Mike Fata, founder, and former CEO of Manitoba Harvest Hemp Foods. This online event offered a learning opportunity for entrepreneurs in the natural product and food industries. Fata shared the story of his success from his days as a high school drop-out working construction to his time as a successful CEO who helped guide the strategic sale of his company for 419 million dollars. Fata and entrepreneur Greg Fleishman have organized a "mass mentorship toolbox" full of free resources and support for entrepreneurs in various stages of their journeys. Fata credits his success to his desire and ability to give back to the community and "pay it forward."
This year's edition of Café Scientifique Saskatoon welcomed Dr Kate Congreves, Assistant Professor at the College of Agriculture and Bioresources at the University of Saskatchewan (USask). Her talk: Balancing Acts for a Sustainable Food Future addressed the question: "Climate change is destabilizing the natural processes that support large-scale agriculture, so how do we adapt and move towards a sustainable food future?" and focused on the evolution of urban horticulture as a solution to food sustainability. Congreves exciting talk was held in conjunction with the International Year of Fruits and Vegetables and the celebration of 100 years of horticulture at USask.
The Startupville Podcast back was again this year featuring a series of interviews with local biotech organizations. The podcast — brought to you by Innovation Place and Martin Charlton Communications— showcased Rob Henderson (BioTalent Canada), Conrad Nixon (Back to Your Roots) and Ag-West Bio's Jay Robinson, who spoke of the new Global Agri-Food Advancement Partnership (GAAP).
Startupville Podcast- Interviews
Jay Robinson (Global Agri-Food Advancement Partnership) – 01:17
Conrad Nixon (Back to Your Roots) – 19:19
Rob Henderson (BioTalent Canada) – 34:30
A special Ag-West Boffins Innovation Series Grow Your Business with Genomics featured industry speakers from the crop and livestock sectors. Carl Potts, Executive Director of Saskatchewan Pulse Growers and Sean Walkowiak, Research scientist from Canadian Grain Commission, highlighted genomic innovation within the crop industry while Cheryl Waldner, NSERC/BCRC Industrial Research Chair at the Western College of Veterinary Medicine, shed light on the latest applications that can improve bovine health. Genome Prairie was also on hand to describe Genome 360, a program that supports the adoption of genomics to increase business competitiveness, productivity, and sustainability.
Biotech Trivia Night made a successful reappearance this year at Louis pub on the U of S campus. This trivia night was a high tech, hybrid event that featured a collection of teams competing both in-person and online. A fun night of biotech facts and science-infused pop culture offered a celebratory end to the week.
Agriculture in the Classroom organized a hands-on DNA activity for teachers — helping kids explore bioscience in an entertaining and accessible way. 
This year, the Canadian Light Source (CLS) showcased some exciting new science stories with videos that highlighted recent advancements in agriculture, food, and environmental research. From tractors to chocolate, the fascinating research at the CSL continues to surprise us.