Global Biotech Week 2020 looked quite different than previous years. In the 17 year history of Biotech Week in Canada, this was the first time all events and activities were held online. The COVID-19 pandemic has limited in-person gatherings and altered how we celebrate, but surprisingly this challenge has opened new doors.
Hosting the events online meant they were accessible to individuals from out of province, and even outside of the country. This unique opportunity allowed businesses, local researchers, science communicators (and self-described science geeks!) to reach a diverse audience.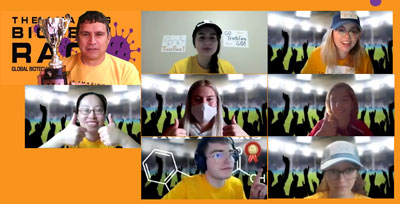 Student events, like Face to Face with a Real Scientist, used Zoom to facilitate discussions about science with curious students. Saskatchewan Polytechnic's 10th annual edition of The Amazing Biotech Race was held online, connecting high school and post-secondary students with local companies for a virtual version of the biobased scavenger hunt. 
The inaugural talk in the ABIC Speaker Series coincided with Global Biotech Week 2020. The Speaker Series promotes science solutions for ongoing global challenges from a business education perspective. Brent Zettl, CEO and president of ZYUS Life Sciences shared his 30-years of knowledge of the bioscience industry in a talk hosted by Ag-West Bio. Business 101: Start-up Bioscience Companies was delivered to a small in-person audience and livestreamed to over 120 virtual viewers, giving entrepreneurs a unique opportunity to learn from the successful Saskatchewan-based business expert. [Watch the video]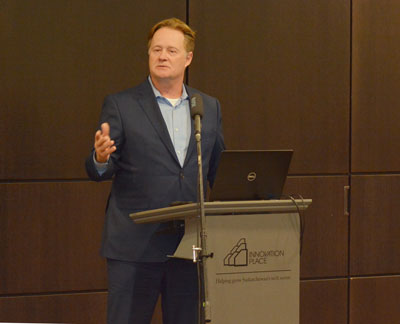 Regina's Warehouse District and Economic Development Regina co-hosted two successful events in the Queen City. Science with Styles welcomed the audience into Outlaw Trail Spirits Distillery as John Styles gave a virtual tour and explained the connection between agriculture and craft spirits. The Science of Beer offered a virtual beer tasting experience, delivered by Mark Heise (Rebellion Brewing Co) and Mederic Lanoix (Warehouse Brewing Company), who were joined by former Saskatchewander Andrew Hiltz for a discussion on the science behind beer.
The first virtual edition of Café Scientifique Saskatoon was held as a Global Biotech Week event, with an engaging talk on the unexpected health and social benefits of GMOs. Presented by Dr. Stuart Smyth of the College of Agriculture and Bioresources, University of Saskatchewan, the talk focused on genetically modified crops and their positive effects, here at home and in the developing world. [Watch the video].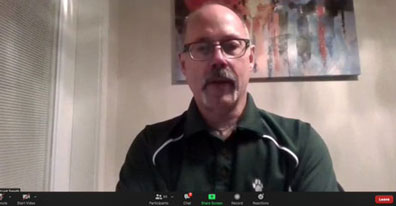 A presentation on effective science communication, by science writer Michael Robin, capped off the week. Unbelievable! Science communication for a skeptical world explored effective ways to communicate science in an age where misinformation runs rampant. Robin's inspiring talk offered a framework for combating pseudoscience and tips for promoting evidence-based conversations. [Watch the Video].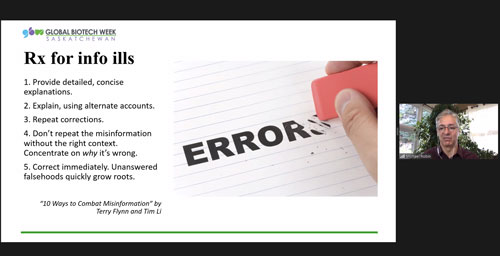 Startupville produced a special Global Biotech Week podcast featuring three Saskatchewan-based biotech entrepreneurs: Shawn Ritchie (Med-Life Discoveries), Masood Rizvi (NRGene Canada), and Brent Zettl, ZYUS Life Sciences. (Listen now)
Learn more about what they do, and what makes biotech different from the typical startup experienceThis year, Saskatchewan's virtual mascot, Felix the Helix, appeared in many social media posts. Viewers who sent proof that they had 'captured' him were entered into a draw to win a cool science T-shirt. 
Ag-West Bio was proud to coordinate Global Biotech Week 2020 in Saskatchewan, with the help of a hard-working local committee comprising educators, agricultural experts, scientists, economic development groups and science communicators. Global Biotech Week was made possible through the support of Saskatchewan businesses and bioscience organizations.
Global Biotech Week successfully adapted to the pandemic challenge and will continue to deliver engaging, science-based events and activities to promote Saskatchewan science to audiences across Canada.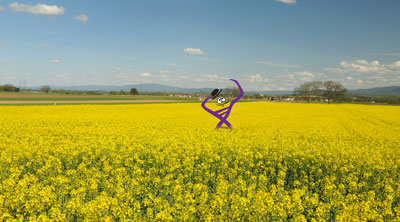 Photos:
Blaine Chartrand, Program Head, BioScience Technology, Sask Polytechnic, with Team Tryptophan, The Amazing Biotech Race trophy winners.
Brent Zettl
Dr. Stuart Smyth 
Michael Robin
Felix the Helix