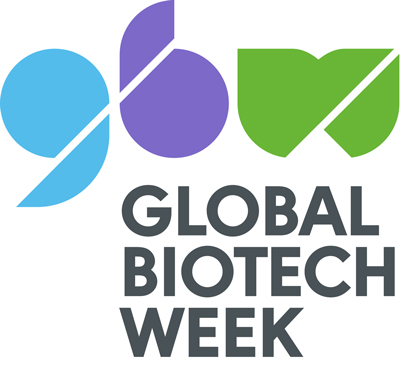 The first Global Biotech Week was a great success, with more than 150 events across the week in 20 countries. BIOTECanada led an action packed week of events celebrating the inaugural Global Biotech Week September 26 – October 2, 2016.
National Biotech Accord members organized regional events and promoted the week through Social and mainstream media. LifeSciences British Columbia, BioAlberta, Ag-West Bio, Life Science Association of Manitoba (LSAM), Life Sciences Ontario, Ontario Bioscience Innovation Organization, BioQuebec, Bio NB, BioNova and PEI BioAlliance were all involved. Collaboration with international partners, including AusBio, BIO Industry Association, EuropaBio, Philippines BIO, and South Africa Biotech Coalition showcased the industry on a global scale.
Saskatchewan events brought together industry for networking and celebration, as well as reaching out to students and the general public to learn more about bioscience in the province. In total, more than 650 people were involved in 11 events in Saskatoon and Regina.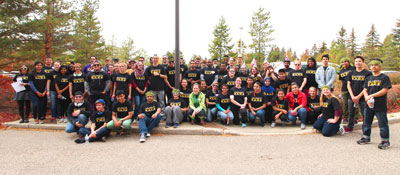 Saskatoon activities included: a kick-off breakfast, followed by tours of bioscience facilities; Café Sci, a public lecture at Winston's Pub; a screening of SaskCanola's award winning documentary License to Farm, followed by a panel discussion; a Trivia Night at Louis' Pub on the University of Saskatchewan campus; and the 6th Annual Amazing Biotech Race at Innovation Place.
In Regina, the Saskatchewan Science Centre bookended the week with two DNA Weekends, geared towards families with young kids. The increasingly popular Adult Science Night brought out around 130 people to take part in hands-on biotech activities, like extracting their own DNA, discovering their blood type, meeting 'Marsh Monsters' and taking "cellfies."
The breakfast at Innovation Place in Saskatoon featured high-tech or novel foods, including Okanagan Specialty Fruits' nonbrowning Arctic® apples In honour of International Year of Pulses, the Food Centre provided delicious pork and lentil sausages with navy and pinto bean pancakes. Tuberosum Technologies' Little Potatoes were made into farmhouse hashbrowns with caramelized onions. For those concerned about gluten, Prairie Tide Chemicals provided tasty and flaky flax scones. Haskap Central made a surprise appearance with haskap muffins. Seabuckthorn, haskap and Saskatoon berries were also featured in sweet and savoury sauces.
Ag-West Bio's Annual Meeting was also held during Biotech Week. The event was called "Brew-HaHa: There's science in my beer!" and featured talks by Alex Speers (Professor, Canadian Institute of Fermentation Technology at Dalhousie University, Halifax, NS) and hops expert David Hysert (retired VP, John I. Haas, Inc.); as well as award-winning barley breeder Brian Rossnagel (Professor Emeritus, University of Saskatchewan). Representatives of 10 Saskatchewan craft breweries delivered 'elevator pitches' and later offered samples for guests during the networking reception.
Ag-West Bio President and CEO Wilf Keller says Ag-West Bio has been a proud participant in Biotech Week for many years. "Biotechnology is an important part of Saskatchewan's economy, advancing our agriculture, health and environmental sectors. Hardier crops, vaccines, insulin, bioremediation, and beer making are all made possible thanks to biotechnology. We are thrilled to see Biotech Week become a global event."
Global Biotech Week provided an important and timely opportunity to showcase the interconnected biotech ecosystem and its key players. The events were promoted and noted through Twitter #GBW2016.
In 2017, the week of September 20 – 27 is scheduled for the next edition of Global Biotech Week. Already lined up for Winnipeg is the Agricultural Bioscience International Conference (ABIC 2017) September 25-27. Keep Global Biotech Week in mind as you plan your fall 2017 events.
Check out the storify feature for biotech week highlights.