How do we assure consumers that the food grown in our province is healthy, safe and responsibly produced? How can farmers and ranchers let people know about the care and attention they give their land and animals? What strategies can we employ to get our message out effectively?
These are just some of the questions that were addressed at Farms at the Table: Menus of Opportunity, an industry conference to launch Farm & Food Care Saskatchewan. On December 10-11, 2014, well over 100 people involved in food production in Saskatchewan and across Canada gathered at the Sheraton Cavalier Hotel to discuss how to best connect with consumers.
"We've had tremendous buy-in from the agriculture industry," said Joe Kleinsasser, Interim Board Chair of Farm & Food Care Saskatchewan. "It's obvious from the support we've received in terms of conference attendance, memberships and sponsorship that Farm & Food Care Saskatchewan serves a real need for those of us who grow food, enabling us to share our stories with the consumers."
Adele Buettner of AgriBiz Communications, who has been working with the interim board to establish the new organization, concurred. "More and more, consumers are wanting to know where their food comes from, that it is safe to eat and produced with care. With less than 2% of Canadians having a direct link to the farm, concerted consumer outreach is more important than ever. We need to share what we do, how we do it and why it matters to all of us in a language and in ways that consumers can understand and appreciate."
The first day of the conference consisted of an industry skills-building workshop with Mike Klein on making the best use of digital tools; Dennis Prouse from CropLife Canada about establishing open, two-way communications with government officials; and Kelly Daynard from Farm & Food Care Ontario with "Speak Up Training" on how to get the message of modern-day agriculture out to consumers.
On December 11, conference registrants were treated to renowned speakers Rob Saik, who discussed topics such as non-science and food paranoia; Carrie Mess, US Social Media Farmer of the Year, on the importance of reaching out to consumers; Kelly Daynard on The Real Dirt on Farming; and McGill University's Professor Joe Schwarcz on demystifying food and science.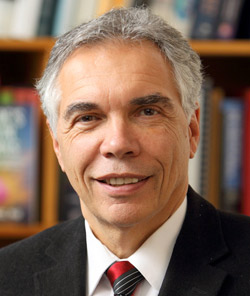 Schwarcz was also engaged for a public lecture entitled "Nutritional Advice – Is There a Solution to the Confusion?" at the Rusty Macdonald Branch of the Saskatoon Public Library the evening of December 10. The event evidently struck a chord with the Saskatoon community in that it attracted an audience of more than 70.
"This was an excellent kick-off for Farm & Food Care Saskatchewan to build support for the new organization," emphasizes Buettner. "During our conference we also held a meeting for people who are interested in developing an Ag Champions program to spread the word about food and farming in the province. Other events and activities we have planned in the coming year include a farm tour for media and chefs, and a 'Pizza From the Farm' initiative for consumers. We've also recently launched a consumer website,www.farmfoodcaresk.org."
Republished with permission. Visit the Farm & Food Care Saskatchewan website
The Real Dirt on Farming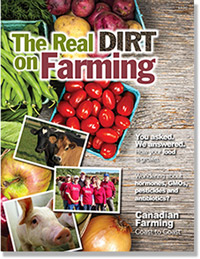 The Farm & Food Care Foundation's latest edition of "The Real Dirt on Farming," a 50 page magazine that answers consumers' questions about food and farming, tackling the toughest topics in agriculture, such as pesticides, antibiotics, hormones and GMOs. The magazine provides information about growing food, animal care, food safety, economics and environment.
Click here to learn more about this valuable resource.