The release of the latest Intergovernmental Panel on Climate Change (IPCC) special report heightens the need for technological innovations in food security. The challenge is explaining how GM foods can help to feed a warming world.
……………………………………………………………………………….
During Biotech Week, on a warm, sunny afternoon in late September, Ag-West Bio held a reception to celebrate foods developed through genetic engineering. I was asked to attend and write an article on the event and the food. My views on GM foods are moderate; I grow my own organic vegetables and tend to buy organic when the price is right. I avoid farmed salmon but enjoy stocked trout from Lake Diefenbaker. And I'm definitely not a vegetarian.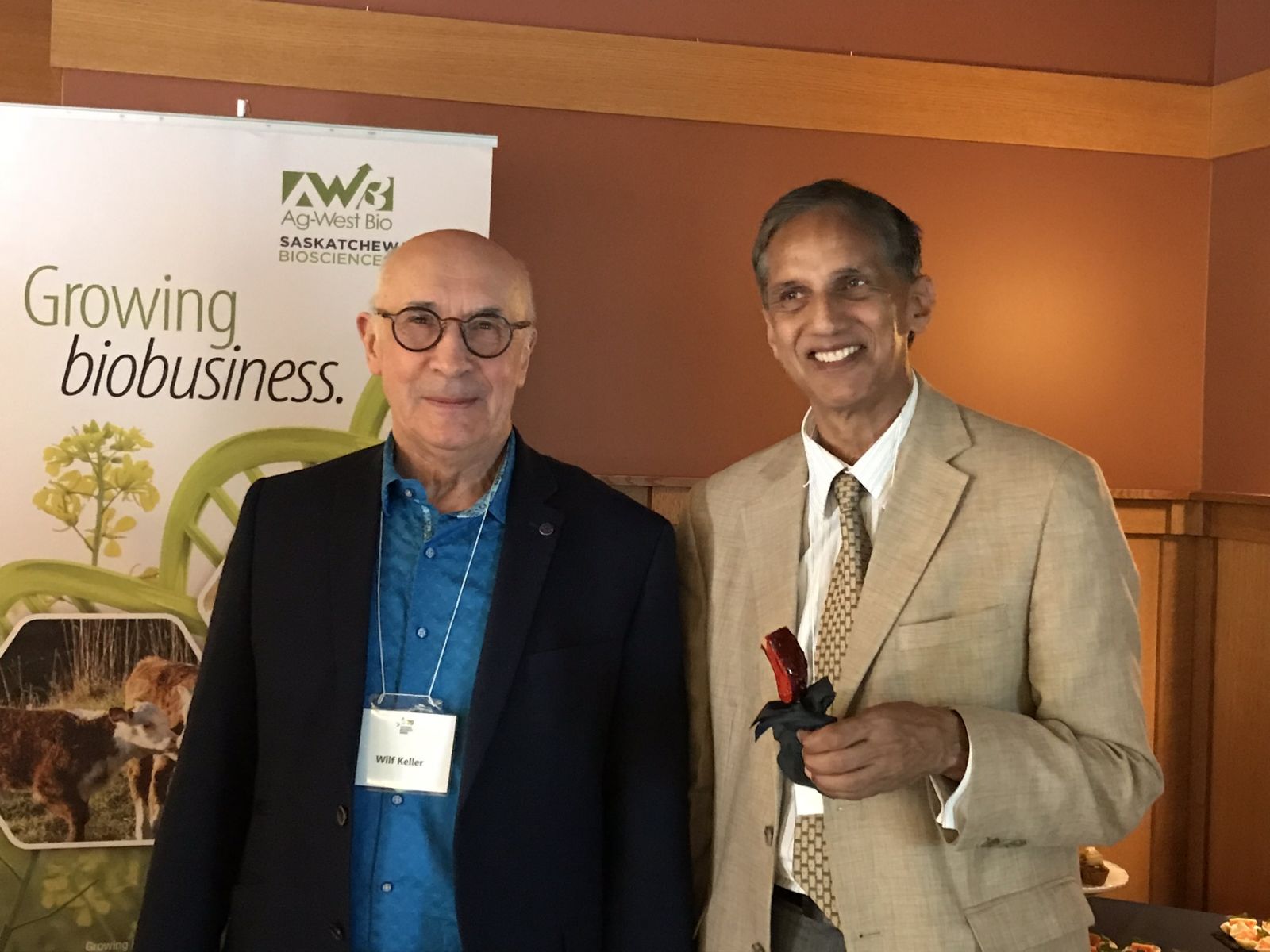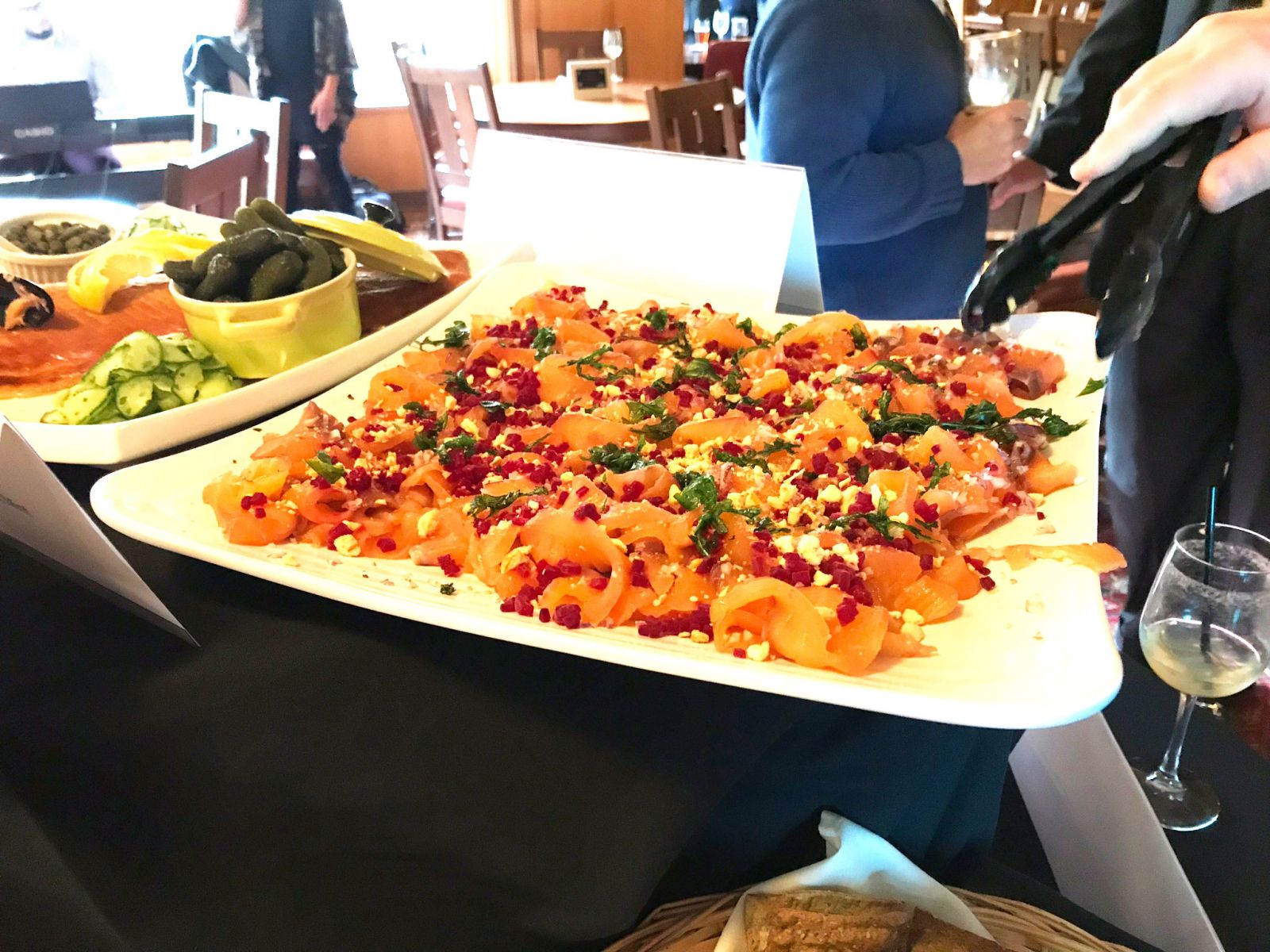 Although the setting was relaxed and sumptuous, with platters of AquAdvantage® salmon, Innate® potato chips, Artic® Apples, vegetables and dips – and a jazz duo playing in the background – the message felt urgent. If we are going to tackle the challenge of feeding the world in a changing climate, the application of emerging technologies, like gene editing, will be essential.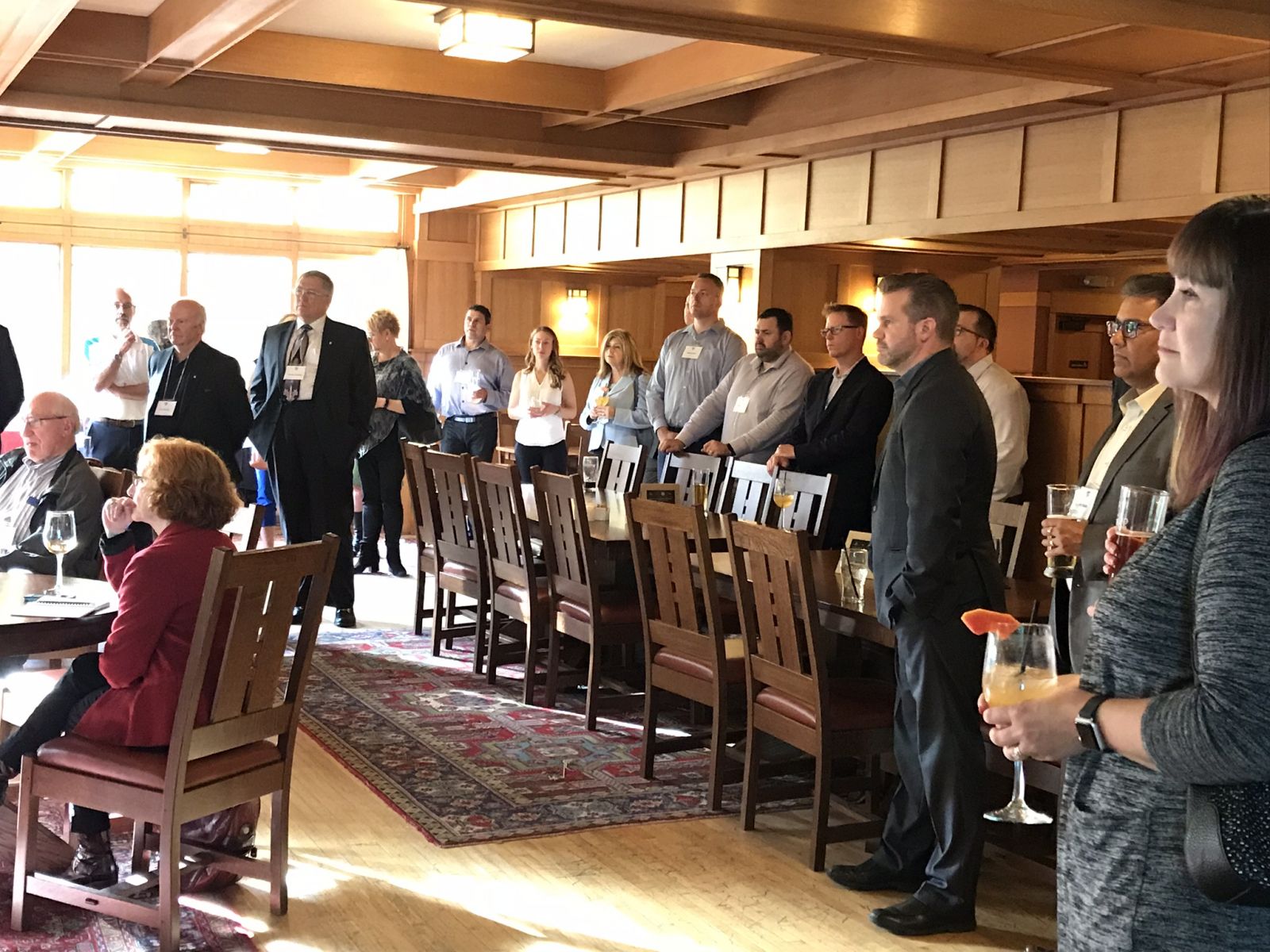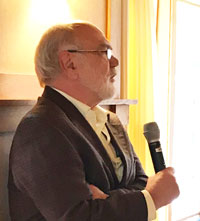 Andrew Potter, director and CEO of VIDO-Intervac (Saskatchewan's vaccine R&D centre) spoke first about the medical benefits of genetic engineering in pharmaceuticals such as insulin, in vaccines, and in advancements in gene therapy.          
Phillip Stephan's eight-year-old daughter was diagnosed with Type I diabetes. "She is alive today because of the technologies that allow us to produce human insulin using genetically modified bacterium," he says. Products like insulin save lives or improve the quality of life, so the needs and benefits are understood and accepted. To consumers, the benefits are not as clear-cut for genetically engineered foods.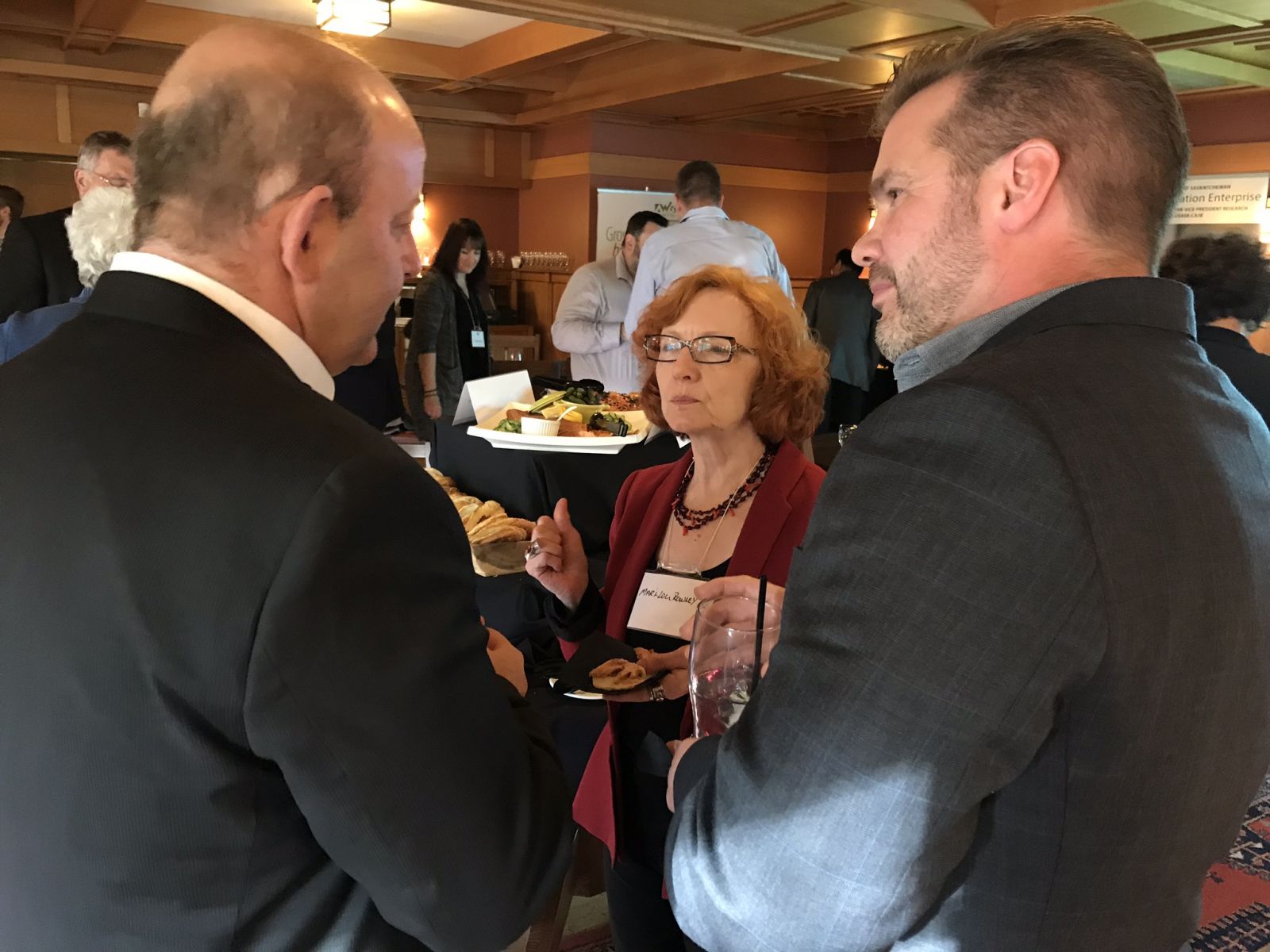 Mike Cey, Mary-Lou Rowley, and Philip Stephan (on the right)
Stephan is the vice-president for Agriculture/Biotechnology at the Saskatchewan Research Council. He and colleagues at the National Research Council are working to develop fermentation-based food products that enhance nutrition, increase the bioavailability of nutrients, and offer antimicrobial, probiotic and antioxidant benefits.
Fermentation has been used in food production and preservation for thousands of years, in products such as cheese, wine, beer, yogurt, and bread. Recently, there has been a resurgence of interest in fermented foods for their health benefits. "Functional foods have been shown to have benefits in cardiovascular disease, cancer, gastro-intestinal disorders, metabolic disorders, and allergies," says Stephan. "The advantages of fermentation are finally being recognized. As we apply biotechnologies to better understand what these microbes do, we are able to see a significant untapped value and human benefit."
……………………………………………………………………………….
B:5 Climate related-risks to health, livelihoods, food security, water supply, human security, and economic growth are projected to increase with global warming of 1.5oC and increase further with 2oC. (Global Warming of 1.5oC: An IPPC Special Report, 6 October 2018.)
……………………………………………………………………………….
Canola: the real dirt
Growing up in Saskatchewan, I remember driving past oceans of wheat and blinding yellow rapeseed fields. The wheat stalks were much taller then, and the oil from rapeseed contained higher levels of erucic acid, since shown in animal models to have negative health effects. Rapeseed oil also contained a high level of glucosinolates, responsible for a pungent odour and taste. Using traditional hybridization techniques, canola was developed in the 1970s for its healthy fatty-acid profile and mild taste. While today's crops are developed with molecular technologies and genetic engineering, the goals are the same: better food quality, increased yields, reduced use of pesticides, heat and drought tolerance, and more sustainable use of the whole plant.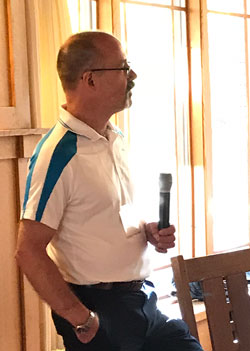 Listening to the speakers I learned something unexpected. The "gold" in canola isn't just a light, healthy oil, but what canola in crop rotation adds to the soil. Stuart Smyth, assistant professor in the Department of Agriculture and Resource Economics at the University of Saskatchewan spoke first-hand about the environmental benefits. He grew up on a farm in Southeastern Saskatchewan and remembers a sustained drought in the mid-80s, when his family was growing wheat and oats, and still doing summer fallow.
"Back then, some of our hilltops were right down to clay. Today farmers in that area who have been doing zero tillage and growing GM canola in their crop rotation for 20 years have added anywhere from six to eight inches of topsoil back into their fields." A principal component of thick, black topsoil is organic carbon. "This was an unexpected by-product of continuous cropping with canola, rotated with other crops such as pulses and cereals," says Wilf Keller, president and CEO of Ag-West Bio. "We are not sure if it is due to the root system or other aspects of the biology, so we are working to determine the mechanisms in order to develop crops that do this effectively."
One way they are working to achieve this is through neutron scattering imaging, which is being studied by molecular biologist Paul Arnison, who also attended the event. "In agriculture, the next big frontier is the study of rhizome states, or roots," he says. "We have very little ability to see into the soil without disturbing it, so we have been building a camera that can see through soil."
Another benefit of growing canola is due to the bright yellow flowers that reflect sunlight and heat. "The canopy in canola is cooler than other crops, so this also has implications for climate change that we haven't even begun investigating yet," says Keller.
……………………………………………………………………………….
Canola and carbon sequestration
Continuous cropping of canola enriches depleted soils, and increasing soil carbon sequestration helps to reduce the amount of CO2 in the atmosphere and offset fossil-fuel emissions. An article by Canadian researchers on crop yields and root inputs states: "The recent increase in canola yield and area is accounting for 70% more of the increase in C input to agricultural soils since 2005," (Fan et al., Geoderma, 2019, vol. 336). (Also See: Lal, R. Science, 2004, vol. 304; Futurefarmers.com.au).
……………………………………………………………………………….
Assessing the taste-benefit ratio
I decide it is time to try the GM foods on offer. The slice of Artic® apple is crisp and sweet, and the apple doesn't turn brown when cut, since the genes for browning have been turned off. Nonbrowning benefits the food industry, as it provides options for prepared snacks and fruit trays, and helps to reduce food waste from farm to table. The browning process also reduces vitamin C and antioxidant levels, whereas Artic® apples retain more of these nutrients. 
The next item in my taste-test are the Innate® potato chips. They are light and flavourful and almost melt in my mouth. DNA sequences from wild or other cultivated potatoes are inserted into the genome, and like the apples, these potatoes don't turn brown when cut or bruised. They also have lower levels of the amino acid, asparagine, which when cooked forms acrylamide, a chemical linked to cancer. The potato also lowers reducing sugars, which according to the company's website "further contributes to reduced acrylamide and enhances cold storage capability." The most important trait of Innate potatoes for producers is their resistance to late blight, or the Irish potato famine.
I move on to sample the genetically engineered salmon. The Boffins chefs have outdone themselves, with offerings of beet-cured salmon; salmon rillette on salmon skin crisps topped with tobiko and dill; and smoked salmon. The fish is firm, flakey and delicious – and grows twice as fast as its non-GMO counterpart. Using genetic material from Chinook salmon and the ocean pout, AquAdvantage® salmon reach market size of four to five kg in 18 months and use 20-25 per cent less feed to grow to market size than other farmed salmon. Because they are grown in biosecure tanks in land-based facilities, they will never mix with wild fish populations. They are also all female, so breeding is controlled. AquAdvantage salmon has the potential to reduce the demand on wild fish and increase availability of Omega3-rich salmon to consumers.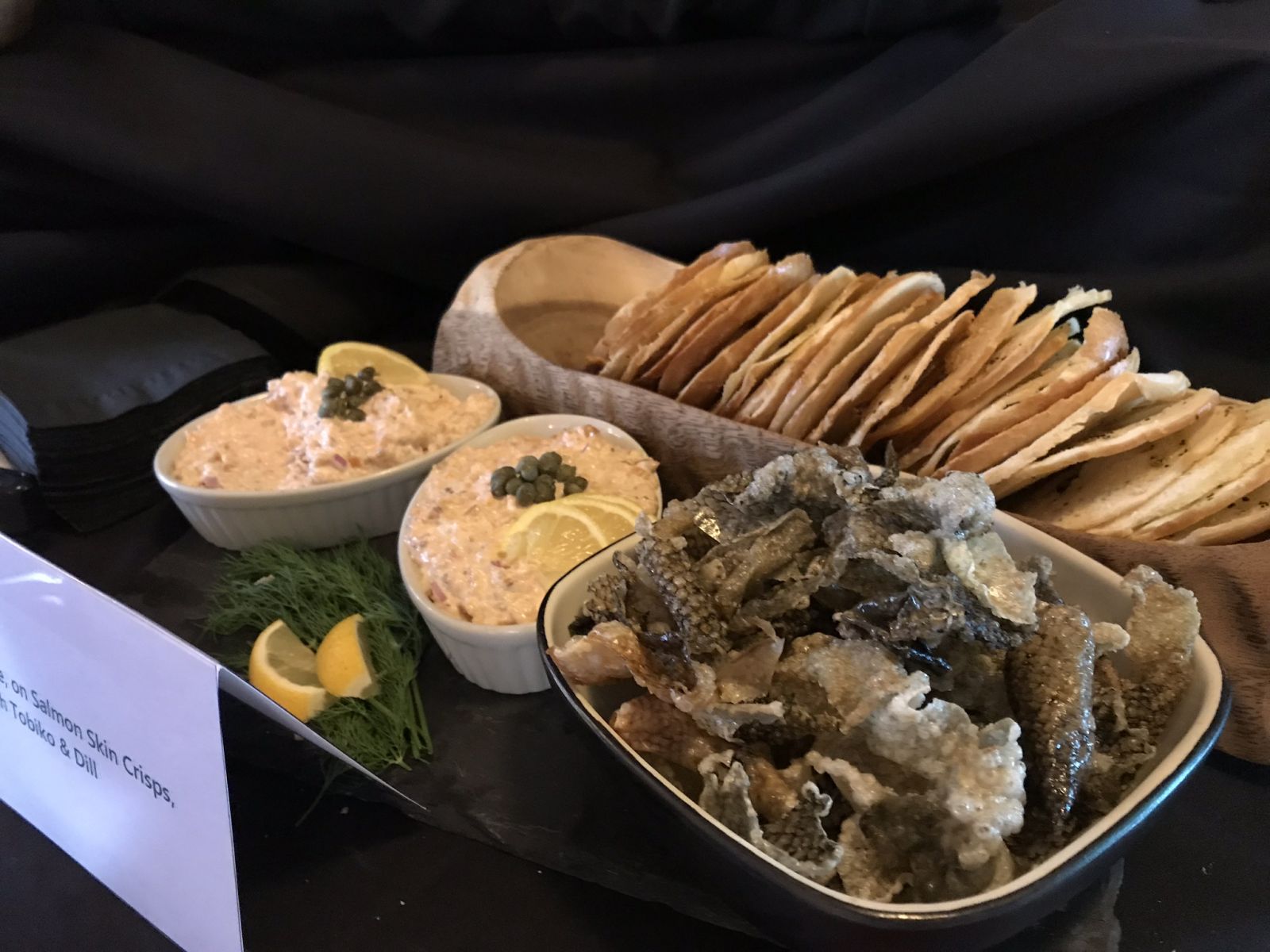 Key to consumer acceptance is need, benefit and choice
All three products have received Health Canada and Canadian Food Inspection Agency (CFIA) approval, with no special labelling required. To instil confidence and acceptance, consumers need good reasons for purchasing GM foods. And they should have a choice. Product labelling that outlines the benefits would be a positive step forward.

Today, farmers choose the type of crops they grow – whether organic or GM – broadly based on soil conditions and climate. Saskatchewan researchers are using genetic engineering to tailor crops to regional conditions, such as salinity or drought tolerance.

"Instead of a company or university putting out one variety per year designed to have the broadest adoption, you will see companies putting out three or four varieties developed for regional conditions," says Smyth, also Agri-Food Innovation Chair at U of S. "Through genome editing, breeders will be able to develop varieties that are more easily able to respond to a rapidly changing climate."

Mary-Lou Rowley is a Saskatoon-based freelance writer