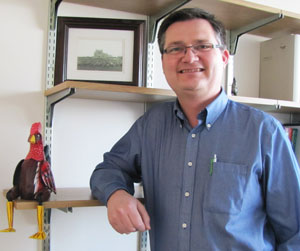 Rex Newkirk seems to have found his ideal job as the Saskatchewan Ministry of Agriculture Endowed Research Chair in Feed Processing Technology at the University of Saskatchewan (U of S). He gets to use the experience he has acquired over the years as an entrepreneur and as former VP Research and Innovation at the Canadian International Grains Institute (Cigi) in Winnipeg, MB. He also gets to teach. 
"It fits me well," he says; "I love to teach, and I also like doing applied research that people can use fairly quickly."
When asked how this program will benefit Saskatchewan producers, Newkirk doesn't hesitate: "Dollars. I want to get more dollars into their pockets." He says because producers are removed from the process, they sometimes feel that everyone else is making the money. "My goal is that whatever we do, we can derive value for the entire value chain, especially for the producer."
He is approaching this from a variety of angles. With any processing, whether for food or biofuels, there is a lot of material left over. The livestock industry can turn these low quality (from a food perspective) materials into high quality food for people. The feed industry benefits farmers by creating another market for their crops. If more materials from a crop can be used, or more nutrients for livestock can be derived through processing, this increases the value of the crop. As well, because it creates a flexible market, the feed industry can temper the price swings that occur when supply and demand aren't aligned. Also on Newkirk's list of priorities is maximizing efficiency in manufacturing plants, as well as reducing pollutants and greenhouse gas emissions.
Saskatchewan born and educated, Newkirk felt comfortable returning to Saskatoon after 12 years away. One of the things that drew him back was the collegial atmosphere in Saskatchewan's research cluster. "People know each other, they trust each other, and so they're willing to collaborate on projects." 
Within the U of S, Newkirk notes the Toxicology Centre and the Western College of Veterinary Medicine as two of many important collaborators. He is also forming connections with many organizations outside of the U of S, such as POS Bio-Sciences. Commodity groups have also been welcoming. "We're able to have an open discussion about where priorities lie, what are the opportunities. They had me speak at CropSphere to talk to farmers about where the livestock industry fits in with grains," he says. 
Newkirk is enthusiastic about the infrastructure here, particularly the U of S Canadian Feed Research Centre (CFRC), a feed mill located in North Battleford. The $13.3M national facility opened in 2014 and is available to Canadian and international researchers – academics as well as industry clients. With capacity to produce feed in batches from 50 kg to 20 tonnes, researchers can test their technologies from the lab, through pilot-scale and right up to commercial volumes. This gives companies a realistic picture of how a technology is working. "If a company wanted to come in and have us produce feed for them on a big scale so they can prove markets, we can do that."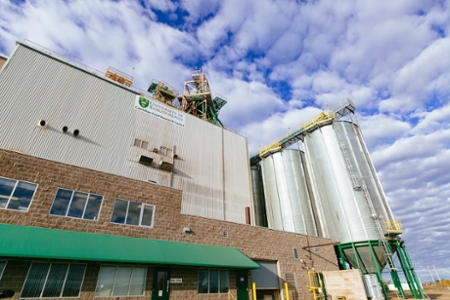 The facility is also a valuable teaching tool. Students are given the opportunity to work in the mill, running systems like they would in a commercial plant. "They are really learning, not just from a textbook, but hands on, and we're proving the technology," says Newkirk. His students can even run the mill remotely from their Saskatoon classroom, manufacturing feed from beginning to end. "That's a very unique opportunity."

Technology has changed feed production dramatically in the last 20 years. Because of that, Newkirk says companies today are looking for more employees with master's degrees. "It's important for companies to be able to evaluate new technologies. They need people that can come in, dig in deep, ask the hard questions, think critically. That all involves having a good science background." 

Newkirk was co-founder of MCN Bioproducts, a successful company that developed animal and aquaculture feeds from canola meal (it was sold to Bunge Limited in 2012). He says taking a technology, scaling it up and making it commercially viable is much harder than it might appear. "Having gone through that, I'm always looking at how we can take the risk out of companies; what are they looking for, what kind of information do they need?" His experience in international marketing and commercial application of technology helps in his lectures at the College of Agriculture and Bioresources. He encourages students to think critically, to learn "to weed the good ideas out from those that have no commercial reality."

He is currently supervising graduate students working on three research projects: evaluating the impact of soluble fibre on chicken gut health; exploring a method to break down flax fibre so it can be used as a feed ingredient; and monitoring grain conditions in manufacturing plants by using a technology called Near Infrared Spectography. 

Newkirk is happy to be back in Saskatchewan and optimistic about the research program's potential for both improving the feed industry and helping grad students prepare for increasingly technical jobs. "I won the jackpot here!" 

CFRC photo courtesy U of S