In 1921, Dr. Cecil F. Patterson (PhD) arrived in Saskatoon to become the first head of the Department of Horticulture at the University of Saskatchewan (USask). One of his main focuses was fruit development, particularly apples, plums and pears. During the depths of the Depression and Dirty '30s, he self-published Hardy Fruits with special reference to their culture in Western Canada in 1936. He envisioned fruit as an essential part of every prairie farm, with small commercial orchards supplying fruit to urban populations much as U-picks do today.
"If the hardiness of the Siberian crab could be combined effectively with the high quality … of the well-known standard varieties, that apple would occupy its rightful place in every western home garden," Patterson wrote.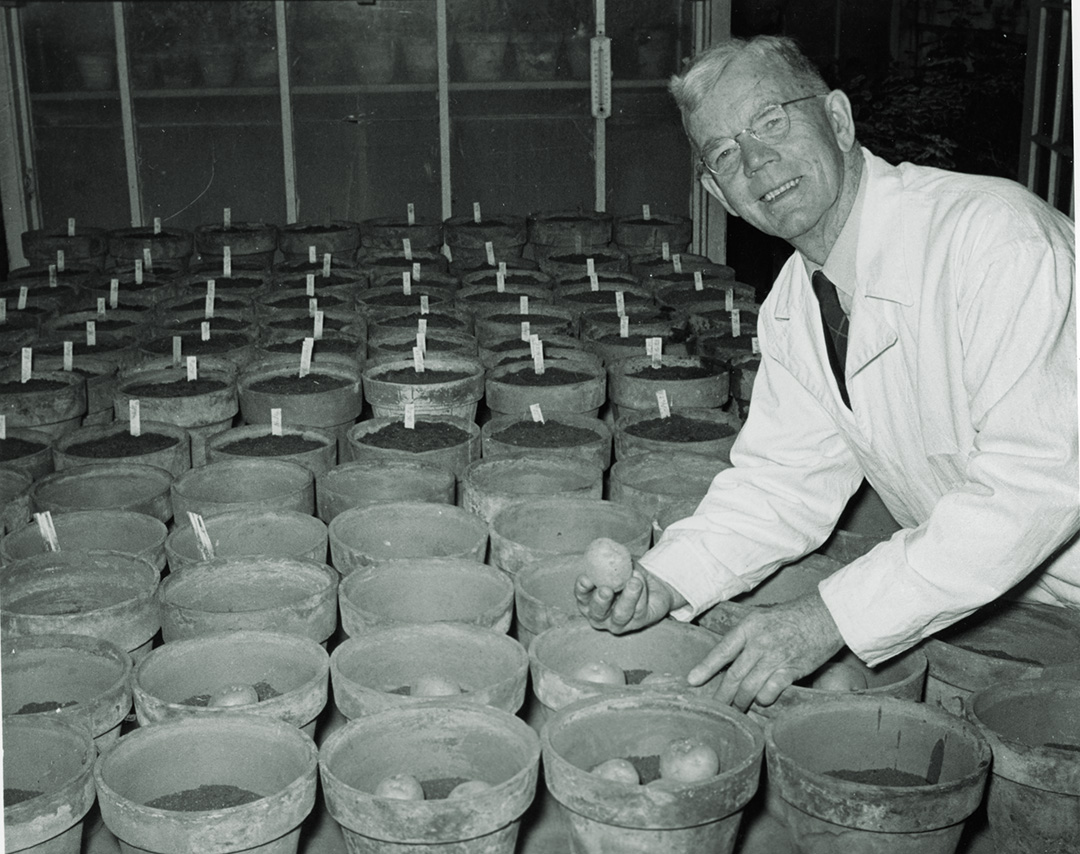 Between 1922 and 1924, Patterson made more than 30,000 apple crosses, from which he obtained about 10,000 seedlings. Sadly, most of these winter-killed. But prior to his retirement at USask in 1960, a number of plums, apples and pears were introduced, mostly from crosses made in the 1940s. Of the plums, Patterson Pride, Perfection and Superior are still available. Twenty apples were introduced between 1958 and 1960, but none are found today. His pears fared better. Of the eight pears in his Apostle series released in 1960, the John and Thomas varieties are still available.
Dr. Cecil Stushnoff (PhD), horticulture science department head (1981-1991), encouraged the breeding of cherries and apples. He also obtained funding for the Native Fruit Program, hiring Dr. Richard St-Pierre (PhD) as lead, whose research and extension greatly expanded the Saskatoon berry industry in Canada.
A phone call in 1983 from Les Kerr, former head of the Prairie Farm Rehabilitation Administration Forest Nursery Station (now the Forestry Farm Park), asked that Stushnoff visit him in hospital. Kerr had crossed Mongolian sour cherries with some northern European varieties of higher quality. Because this was not part of his official job description, it was carried on clandestinely, with seedlings distributed to farmer friends where Kerr could observe them without running afoul of his federal bosses. With his health failing, he wanted to disclose their location to the university to ensure they would not be lost. Kerr also donated his hardy hazelnuts crosses, now being used in further breeding by Dr. Bob Bors (PhD).
After Stushnoff left, research technician Rick Sawatzky remained the only fruit breeder at USask for a decade. He focused on sour cherries, apples and hazelnuts until his retirement in 2019. In 1997, he introduced the Prairie Sun apple; in 1999, Carmine Jewel, the university's first cold-hardy dwarf cherry; the raspberries Red Bounty, Red Mammoth and Steadfast; and the apple varieties Prairie Sensation in 2006 and TreasuRed in 2014.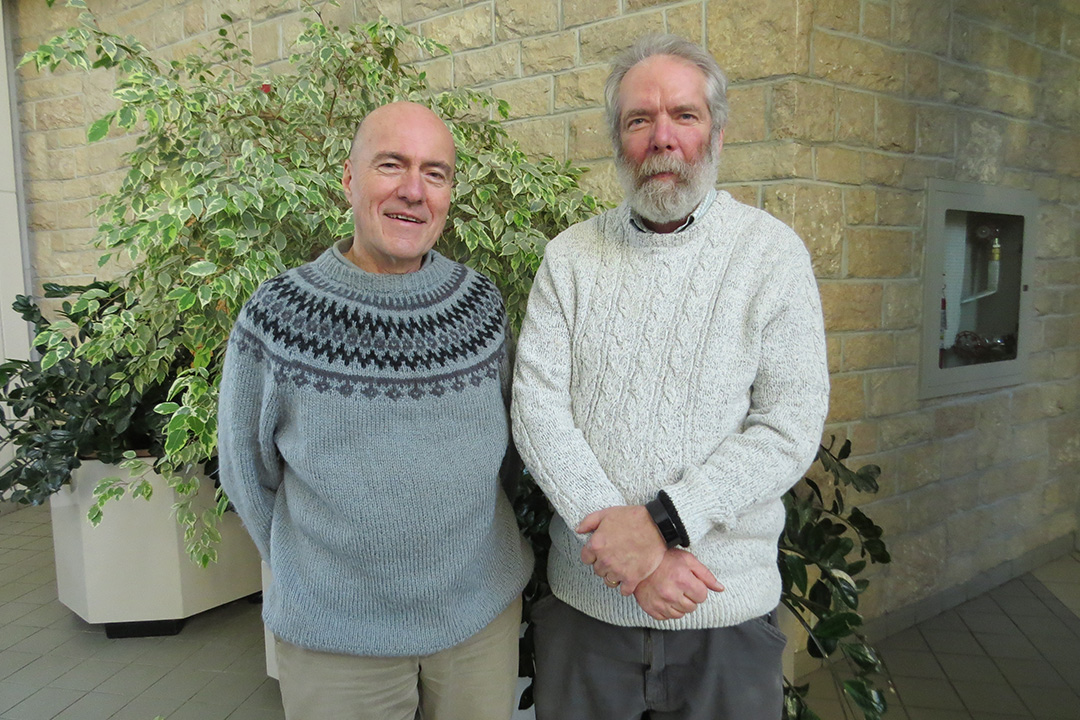 The university's fruit breeding program experienced unprecedented growth with the arrival of Bors in 1999. He was immediately attracted by the possibility of hardy sour cherries and continued their breeding and selection, releasing an additional five varieties of the Romance series in 2003—Crimson Passion, Cupid, Juliet, Romeo, and Valentine.
In 1997, Sawatzky ordered four edible blue honeysuckle plants—then called sweetberry and now referred to as haskaps—from Oregon to test in the university's plots. Tasting these for the first time in 2000, Bors was immediately enticed, envisioning their potential as a commercial crop. He began breeding for larger size, better taste and productivity and a wider range of ripening dates. From 2007 to 2016 he introduced Aurora, Boreal Beast, Boreal Beauty, Boreal Blizzard, Borealis, Honey Bee, Tundra, and the Indigo series.
USask now has the largest and best haskap breeding program in the world
Bors has also been a consummate marketeer and an extension agent extraordinaire, writing growers guides and conducting hundreds of workshops and plot tours. Due largely to his work with growers, there are now over 200 commercial fruit producers in Saskatchewan and well over 2000 acres of commercial fruit production. Of these, Saskatoon berries account for about 1100 acres, haskaps (the fastest growing acreage) about 300 acres, sour cherries 250 acres, strawberry and raspberry around 200 acres each, and more than 100 acres of apples, with other fruits making up the rest. The total value of this production is over $20 million per year.
These introductions have also had a large impact on home gardeners and nursery sales. The plant patent royalties, 40 per cent of which come from Europe and the United States, funds continued research at USask.
In 2019, Bors and Sawatzky were presented with the prestigious Stevenson Award for their work in fruit breeding on the Prairies. As the university celebrates 100 years of horticulture at USask in 2021, Patterson's vision of commercial orchards supplying fruit to urban populations on the Prairies has indeed been realized.
Photo 1: USask assistant professor Dr. Bob Bors (PhD) of the Department of Plant Sciences with a handful of haskap berries. (Photo: College of Agriculture and Bioresources)
Photo 2: Dr. Cecil Patterson (PhD) began potato breeding in 1930 in the Department of Horticulture at USask. (Photo: USask Archives, A-2830)
Photo 3: Research technician Rick Sawatzky (left) and Dr. Bob Bors (PhD) received the Stevenson Award in 2019 for their work in fruit breeding. (Photo: Gloria Gingera)