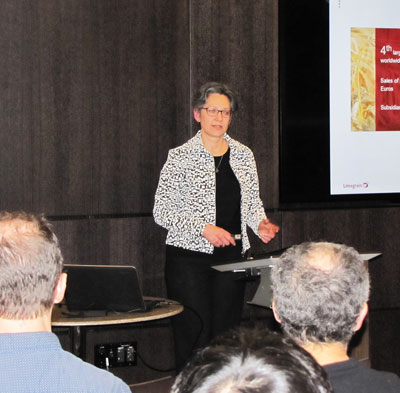 by Noelle Chorney, TallOrder Communications
On February 26, Erin Armstrong, CEO of the newly formed Limagrain Cereals Research Canada (LCRC), spoke at Innovation Place about this venture, a partnership between Canterra Seeds and Limagrain that will strengthen Saskatoon's position as a leading region for crop research.
Limagrain, a cooperative owned by French farmers, is the 4th largest seed company in the world, with annual sales of 2,4 billion euros and almost 10,000 employees worldwide. From plant genetics to cereal products, Limagrain is involved in every stage of the wheat value chain — from discovering traits, creating technologies, breeding, seed production, processing, and distribution. The organization reinvested an impressive 14.6% of its 2015 turnover in research.
Armstrong, Director of Industry & Regulatory Affairs at Canterra Seeds, will be serving part time in that position as well as being the part time CEO of LCRC. LCRC will focus on plant breeding; Canterra Seeds will be the commercialization arm of the organization in Western Canada.
The partnership was made possible when the Plant Breeders' Rights Act was revised in 2015, bringing Canadian plant breeding regulations in line with the current Convention of the International Union for Protection of New Varieties of Plants (UPOV). Armstrong says, "UPOV compliance allows for the kind of international cooperation that Limagrain and Canterra Seeds were interested in. The new company will focus on cereal seed development for Western Canada—initially spring wheat."
With a mission to move agriculture forward to meet global food needs, Limagrain's new Canadian arm will build on its long history of partnerships, which also plays an important role in Canterra Seeds' business model. Armstrong says, "The partnership works because both companies' businesses are based on partnerships. Regardless of size differences, culturally and philosophically they are the same."
LCRC will be based in Saskatoon. Efforts are currently underway to finalize office space. Jim Peterson, Research Director for Limagrain Cereal Seeds in the US was also appointed as Research Director for LCRC.
Jason Reinheimer, formerly Senior Wheat Breeder at Australian Grain Technologies, has started his new position as Senior Breeder at LCRC. The program will begin with spring wheat, although over time the team will tap into germplasm resources for other cereal crops as well.
"The team has access to Limagrain's rich global research library and will be applying that knowledge to developing top cereal varieties that meet the needs of Western Canadian farmers and their customers," says Armstrong.
"Farmers' needs will be met by targeting traits such as agronomic performance, disease resistance and stress tolerance, while consumers' needs will be targeted by focusing on traits related to end use quality."
Since both Canterra Seeds and Limagrain focus on partnerships, this will be key to their approach in their cereal breeding program. They intend to work with Limagrain's existing breeding programs around the world, public programs in Western Canada, as well as national and international programs in both private and public spheres.
The addition of LCRC to Saskatoon's already rich research cluster will reinforce this region as the hub of research innovation in crop development for Western Canada.