by Noelle Chorney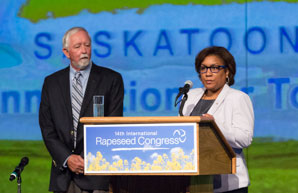 Canola oil is a key factor in McDonald's meeting its health and sustainability goals. At the 14th International Rapeseed Congress in Saskatoon, Gail Crocket, Director of Strategic Supply and Mitch Smith, Director of Quality Systems, Agricultural Products in US Supply Chain Management spoke about the ways high oleic canola oil is currently used at McDonald's, as well as how it may be used in the future.
"Customers want healthy choices, but also 'craveable' favourites," said Smith. "We need to continue to improve our menu, while maintaining the tastes customers love."
High oleic canola oil has played an important part in removing saturated and trans fats from McDonald's menu items. Over the past 40 years, McDonald's has moved from a beef tallow and cottonseed oil blend to a vegetable oil blend to their current blend of high oleic canola, corn and soy.
The research process that lead to the current oil blend took seven years. They analyzed 18 types of oil, developed a pilot plant, conducted 50 quality centre evaluations, 26 difference panels, 10 acceptance panels, 26 management reviews, multiple consumer testing, including 42 pre- and post-consumer surveys.
The goal was nothing less than to eliminate trans-fatty acids in fried foods without increasing saturated fats, and without sacrificing flavour, texture or quality, or affecting store operations. The final formulation that best met those requirements had canola oil as the highest percentage for their fry oil.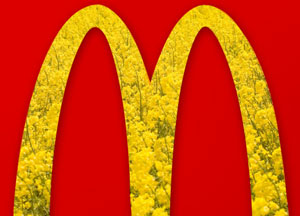 When McDonald's adopted canola oil, they enjoyed several savings. Canola's high yield meant the acreage required to provide the oil was reduce by 20%. The greater stability of canola oil meant fry oil could be changed less often without sacrificing quality. That was a cost savings as well as a reduction in waste.
In order to ensure supply, McDonald's takes a 'three-legged stool' approach to the supply chain: the company, the owner/operators, and suppliers. "It is truly a culture of partnership and collaboration," said Crocket. "We work with local suppliers in every country."
In order to maintain supply and to protect their interest in high quality and high yields in canola, McDonald's has developed a partnership with Cargill, working on canola development from breeding to processing. Through Cargill's research and development programs, they have generated higher canola yields and lowered total required acreage to meet demand.
In their Journey Together for Good, McDonald's aims to source food sustainably, create environmentally efficient restaurants, give back to communities, commit to their people and provide balanced choices. Whether serving healthier options such as the Artisan Chicken Sandwich, grilled using a canola and olive oil blend, or serving up the iconic McDonald's fries, canola oil is a key ingredient.