Canadian oilseed producers will benefit from research in oilseed varieties, such as Camelina sativa. The Soy 20/20 project, which oversees research and development of new varieties of oilseed crops in Canada, has received a boost from the federal government's Growing Forward 2 program. Federal Agriculture Minister Gerry Ritz announced the funding on September 27th, stating, "This investment will benefit producers through the introduction of a rotational oilseed crop, with big benefits for the sector and the economy."
This investment of $3.7 million will help the Soy 20/20 project develop market-ready varieties of camelina sativa to growers across Canada and will help increase the value of the oil for industrial use. This non-food crop provides high-value renewable oils that can be used for green lubricants and polymers, providing an environmentally friendly alternative to petroleum-derived products. Agriculture and Agri-Food Canada researchers are collaborating on this project by working to improve the agronomic traits of the crop, such as higher yield and oil content, improved seed size, and resistance to diseases such as aster yellows.
Camelina is a drought-tolerant crop that can survive on little water and fertilizer and can be grown on marginal land, making it a valuable rotation crop for farmers. The residual meal can also be used as a nutritious, protein-rich feed for cattle, poultry, and swine. "Soy 20/20 is particularly pleased to continue our close working relationship with Linnaeus Plant Sciences," said Jeff Schmalz, CEO of Soy 20/20.
"New agriculture crops such as camelina will make a compelling addition to the portfolio of purpose-grown specialty soybean varieties that we are currently helping commercialize in Canada. These kinds of projects will benefit the environment and reduce our dependency on petroleum, while generating new income opportunities for Canadian farmers."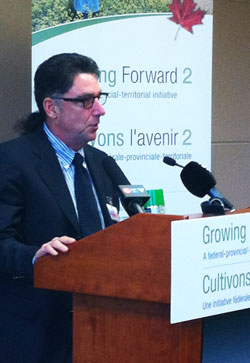 The project will be managed by Linnaeus Plant Sciences, an industry partner of Soy 20/20.
"This commitment builds on earlier investments by Agriculture and Agri-Food Canada, including support under the Agricultural Bioproducts Innovation Program initiated in 2007, and it demonstrates their long-term commitment to this emerging crop," says Jack Grushcow, President and CEO of Linnaeus Plant Sciences.
"This enables us to build significant interest in camelina among Canada's agriculture producers, and it further positions the crop as a valuable industrial oilseed platform." The AgriInnovation Program is a five-year, up to $698-million initiative under the Growing Forward 2 policy framework. The industry-led research and development stream supports pre-commercialization research, development, and knowledge transfer leading to innovative agriculture, agri-food, and agri-based practices, processes, and products.
The terms of this investment are subject to the signing of contribution and collaboration agreements. The new Growing Forward 2 policy framework, which came into effect on April 1, 2013, will continue to drive innovation and long-term growth in Canada. In addition to a generous suite of business risk management programs, governments have agreed to invest more than $3 billion over five years in innovation, competitiveness, and market development.  
Photo: Jack Grushcow, president and CEO of Linnaeus Plant Sciences, speaks during a Growing Forward 2 funding announcement for Soy 20/20