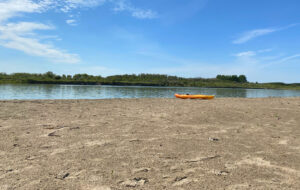 Scroll down to read the Bio Bulletin. Thanks to all AWB members who submitted articles.
Another hot, dry summer. The eerily red sun and yellow light filtering through the smoke drifting to us from the northern wildfires is disconcerting.
Standing beside our glacier-fed South Saskatchewan River, I wonder what's to come. Is this it? Are we at the climate change tipping point? The lack of precipitation combined with knowing that the glaciers are rapidly shrinking gives me a feeling of foreboding. Hearing water experts say "I told you so – it's just happening quicker than we thought" doesn't help.
Fingers are pointing at agriculture as a major source of greenhouse gas emissions. It's true that, no matter what production model you use, growing food takes both fuel and fertilizer. But agriculture is not optional. It is still the best way to produce enough food for us hungry humans. Arguments against conventional agriculture typically contain logical fallacies (such as appeal to antiquity or appeal to nature). Sadly, as Brandolini's 'law' states, "the amount of energy needed to refute [BS] is an order of magnitude bigger than that needed to produce it."
The truth: thanks to science, agriculture has become more environmentally sustainable. Scientists continue to develop crops that are hardier, drought and frost tolerant; and animal feeds that reduce methane emissions from livestock. Food can be produced at a lower cost, with fewer (and safer) inputs than ever before. We must continue to move forward, embrace innovation, celebrate the wins, and tell the success story of agricultural technology – one of the best tools we have for adapting to climate change.
What we are up to:
Ag-West Bio champions the development of agricultural technology. We continue to bring the right people together, to support the brilliant innovators who drive agriculture forward. At Ag in Motion, we partnered with Affinity Credit Union and GAAP to host the third event in the Sprouting Success Series. Producers were invited to participate in a discussion about spraying technology with Shaun Haney (RealAgriculture) and Tom Wolf (Sprayers 101). International companies from GAAP's Navigate program pitched their incredible technologies. (Watch for information about the Sprouting Success series finale, scheduled for Agribition in Regina).
Global Biotech Week is coming soon (Sept. 24-30). It's a chance to celebrate and promote science. Our committee has developed a great program once again, and we are looking for sponsorship!
Visit our event calendar and sign up for our Weekly Update to keep up with news and events in Saskatchewan's bioscience industry; and of course, like us on Facebook, follow us on Twitter and LinkedIn, and subscribe to our YouTube channel.