"We set our sights on becoming the most sustainable protein company on earth – which I never really get tired of saying and still find motivating to this day," says Curtis Frank, president and Chief Operating Officer of Maple Leaf Foods.
Frank was the presenter at the Spring 2021 ABIC Speaker Series, hosted by Ag-West Bio. The virtual event included a short presentation by Frank followed by a 'fireside chat' with Ag-West Bio's President and CEO Karen Churchill. 
With his 20 years of experience at one of Canada's most successful agri-food companies, Frank shared his expertise on key issues in the agri-food sector. He says that over time, Maple Leaf Foods grew into a consumer-focused company that is committed to creating shared value for its stakeholders, customers, and consumers.
Between 1995 and 2009, Maple Leaf Foods was faced with several market challenges that ushered in what Frank called "the fixing stage." During this period the company invested heavily into the Canadian food industry. They focused on establishing the culture and values, which included a commitment to food safety.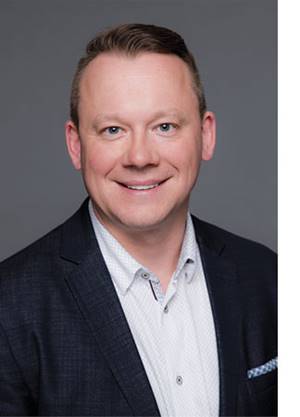 It was a critical time in the company's development. "It was a tough time," Frank says. "It was a challenging time financially in 
the business because the fixing stage is really difficult, and seven years is a long time."
After two additional years defining the company's path and long-term growth strategy, Maple Leaf Foods started to focus on its purpose – to 'raise the good in food.' Today, Frank says sustainability and solving food insecurity are the drivers behind Maple Leaf Foods' mission.
"Four million Canadians face food insecurity [including] one in six of our children in this country." Knowing this prompted the company to create its own charitable organization called Feed Opportunity: Maple Leaf Centre for Action on Food Security.
…………………………………….
During the fireside chat Churchill asked Frank questions ranging from the company's commitment to investing in plant proteins, to the future of alternative proteins, industry trends and innovation, and Maple Leaf Foods' food safety initiatives.
What convinced your team to invest in plant protein and the acquisition of those companies? Is acquisition core to the growth strategy within that category or do you embrace internal development of related products?
One of Maple Leaf Food's core strategies centres around broadening the company's reach into new locations and venturing into new protein alternatives. Protein consumption continues to grow with consumers' desire for diverse options. Frank highlighted the company's balanced approach to plant protein and meat protein.
"Many people call plant protein alternative protein, and we see it as additive protein and that's been our experience so far," Frank says.
Two United States brands of plant-based protein, Lightlife and Field Roast, were recently acquired by Maple Leaf Foods and were seen as great opportunity for the company to grow within the North American market. Maple Leaf Foods continues to focus on bringing innovative products to market.
What is Maple Leaf Foods view on lab grown and cultured meat? Will it be mainstream? When it comes to cultured proteins what exactly are you looking for?
Frank believes that cultured meats will play a role in the food system of the future but there are many barriers in place. Consumer acceptance, the limits of current technology, and price are several hurdles that the lab meat market will need to clear to be successful.
"Traditional meats aren't going away any time soon," Frank says. Rapidly rising meat consumption in countries with a growing middle class seems to confirm this. The demand for protein will increase substantially in the next decades and innovative solutions will be necessary to meet demand. Maple Leaf Foods is watching the on-going development of lab-based meat very closely.
"When you think about what we're tying to accomplish and our sustainability goals, cultured meat checks a lot of the boxes," Frank says, pointing towards food security, environmental sustainability, animal welfare and food safety.
When it comes to alternative proteins, insects are another hot topic. Maple Leaf Foods has an interest in Entomo Farms, a Canadian company that is the largest producer of insects for human consumption in North America.
What is Maple Leaf Foods doing to build trust in agriculture, so consumers believe the food grown on farms and processed in Canadian facilities is environmentally sustainable?
For Frank and Maple Leaf Foods, consistency and transparency are the foundations for trust in the food industry. The welfare of animals is another issue that could make or break consumer trust.
"Keeping the animals under our care safe is really important," Frank says. A focus on the welfare of animals helps keep the trust in the Canadian supply chain, maintains the quality of the product, and is critical to food safety.
Maple Leaf Foods' deep food safety culture has also helped the company weather the storm of the COVID-19 pandemic and keeps employees and the consumer safe. Frank emphasized that food safety is central to everything that Maple Leaf Foods does.
"We have to make a choice sometimes between food safety and profit, and we always choose safety."