The first ABIC in China was a great success, with more than 650 attendees registered for the event that was held in Weifang, the "City of Kites" in Shandong Province, about 600 kilometres from Beijing. This was only the second time ABIC was held in Asia; the 2009 meeting was in Thailand.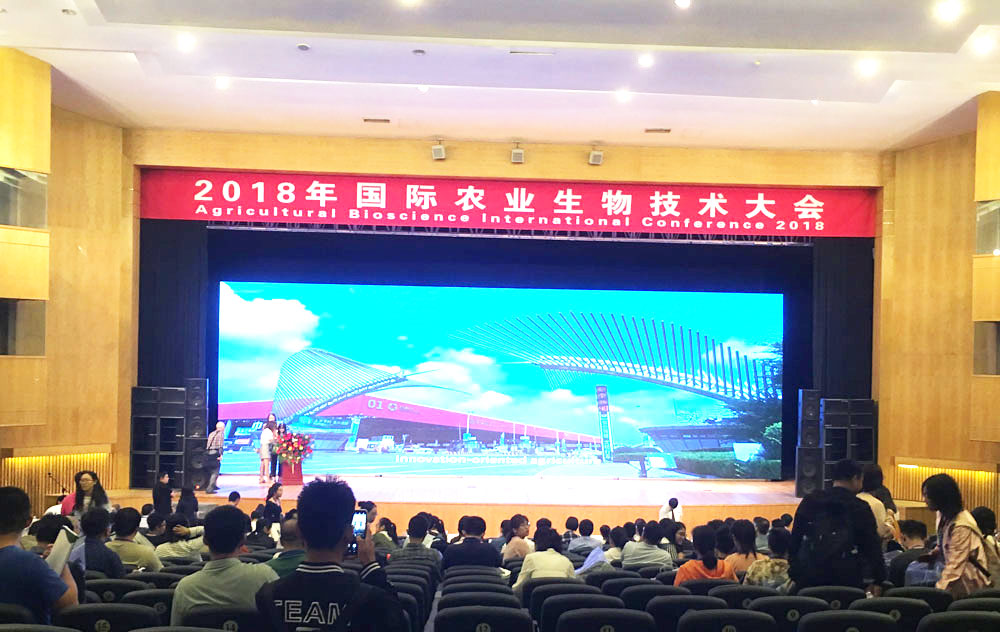 The plenary theatre at ABIC 2018
The event was co-organized by Peking University and the Chinese Academy of Agricultural Sciences. The co-chairs were Professor Xing Wang Deng and Dean Zhihong Xu, both from the School of Advanced Agricultural Sciences at Peking University; and Jiayang Li, former president of Chinese Academy of Agricultural Sciences. A program committee included many local scholars, with members from international organizations.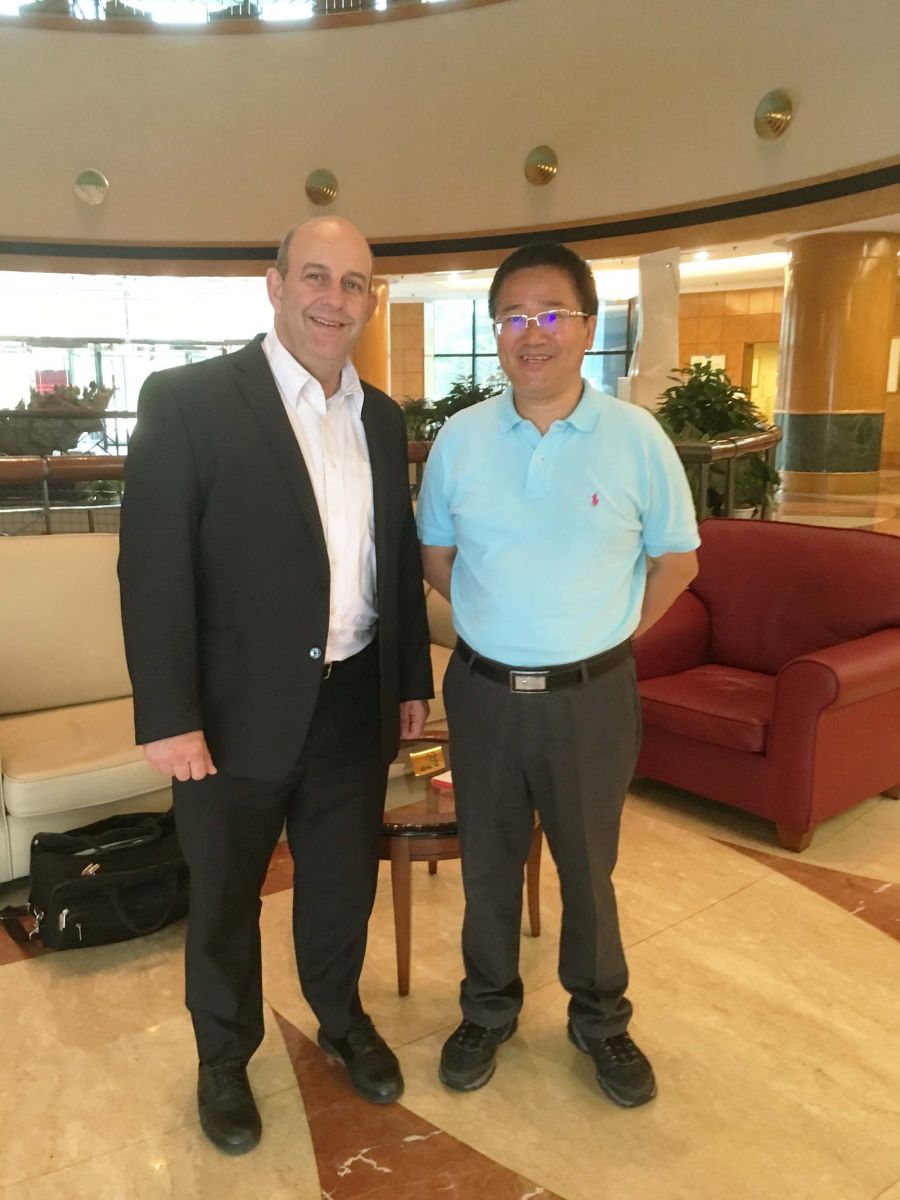 Mike Cey (Ag-West Bio) and Professor Xiang Deng.
Cey delivered a welcome message on behalf of the ABIC Foundation.
Along with post-doctoral students, professors, and industry representatives, Deng said the largest group of attendees – about 40 per cent of the registrants – were students from various Chinese universities. Delegates came from far and near: China, Australia, US, Japan, Canada, Germany, Korea and India were all represented. Of the 92 speakers and 30 chairs, 32 came from countries outside of China.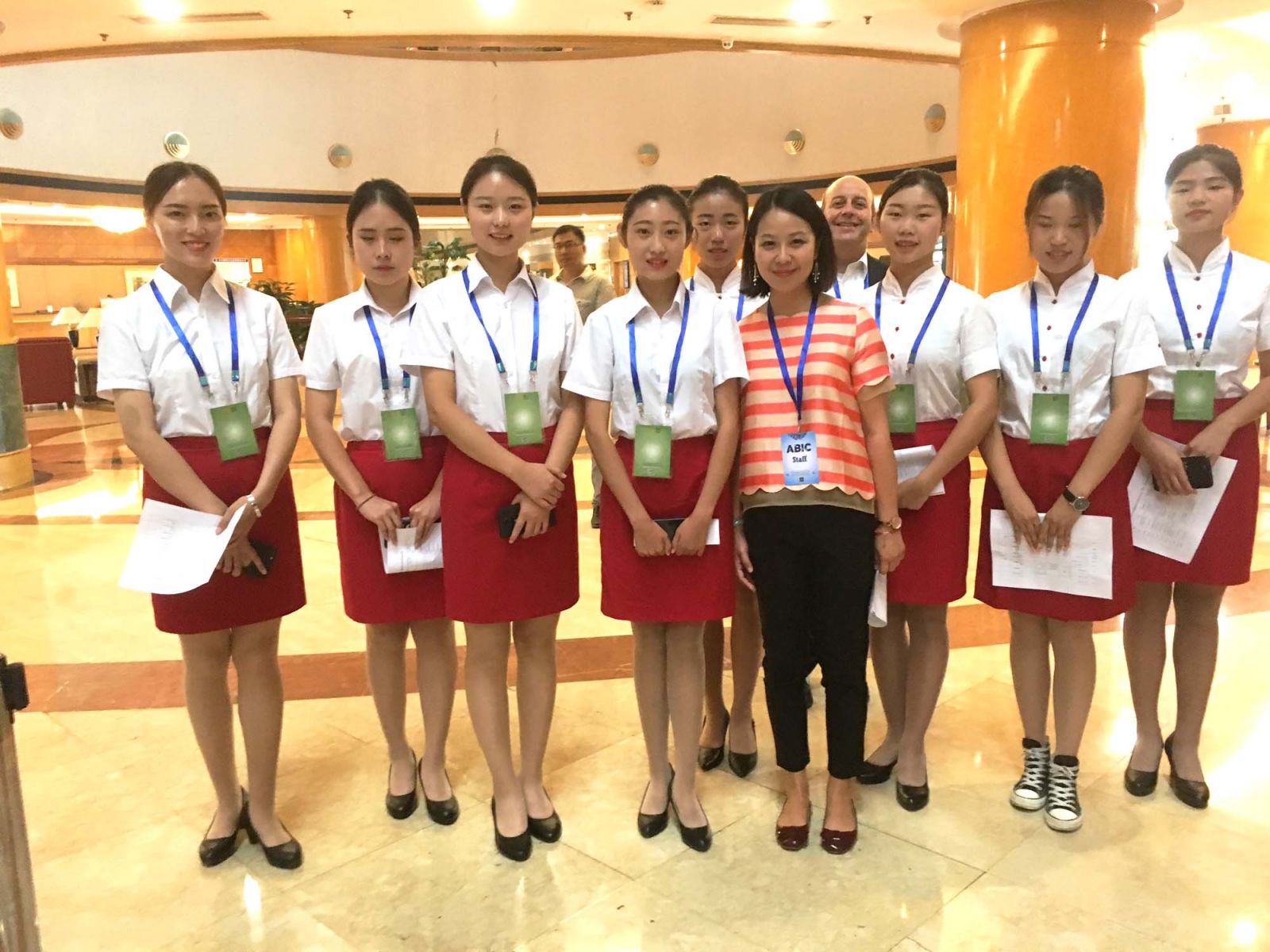 Student volunteers at ABIC 2018
Professor Deng feels that if the conference had been held in a major city like Shanghai or Beijing the numbers could have easily doubled; however, he intentionally chose the smaller city and venue to keep the conference numbers manageable and provide a rich networking experience for attendees. The longer breaks allowed all delegates to gather in a central location, which also made it easy for people to find one another.
The days were organized with plenaries in the mornings, and concurrent, high-level scientific symposia in the early afternoons on each day. The topics covered both animal and plant agriculture, with talks ranging from animal embryo and stem cell research; to genome editing and new technologies; intellectual property and regulatory issues; soil health and environmental concerns; and much more. Compared to other ABICs, there was an intentional focus on foundational research. Deng says this exposed the industrial experts to the basic research, and the scientists to the commercial implications of their work.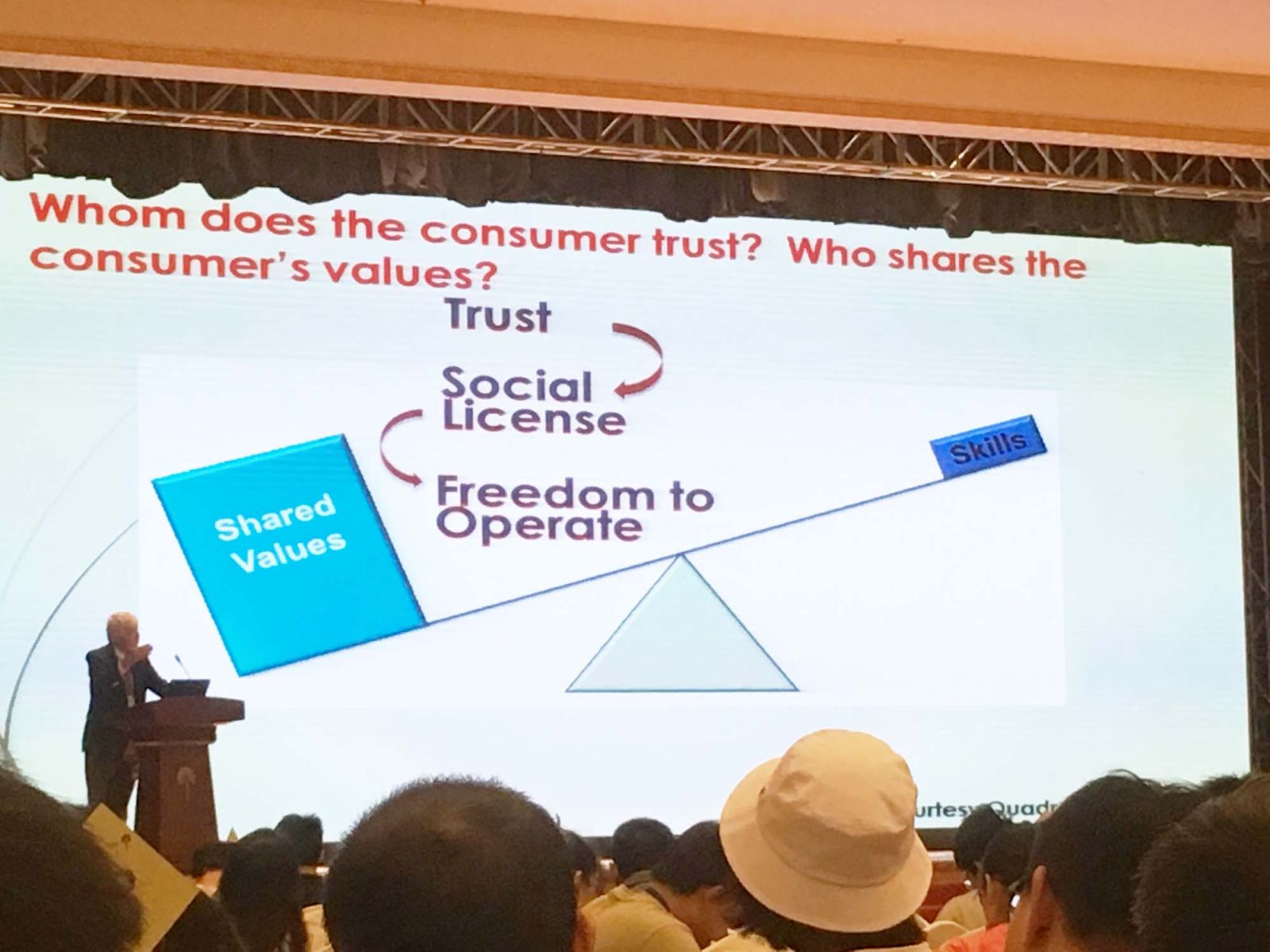 Roger Beachy (

Chief Science Officer, Indigo Agriculture, Boston)

presents on consumer trust at ABIC 2018.
Beachy was the founding ED and CEO at the Global Institute for Food Security in Saskatoon, SK.
Maurice Moloney, Executive Director and CEO of the Global Institute for Food Security in Saskatoon, Saskatchewan, and a former member of the ABIC Foundation board, attended ABIC 2018 as an invited symposium speaker. He believes Deng's approach of putting more discovery science into the program likely helped to increase attendance at this ABIC. "There could be a bit of a formula here, of linking frontier science with what the applications are. Most of the people doing the cutting-edge science – all of them are justifying their science in those terms."
According to Deng, the Chinese government supports both basic research and the development of commercial products. He says China is quite advanced in plant technologies, but commercialization is lagging because policy development needs to catch up. As is the case in all countries, governments set the tone of regulations and determine how strict the policies will be. If good policies aren't developed, this would have a negative effect on industry.
Another challenge is that NGOs like Greenpeace have had a big impact in China, affecting public attitude about biotechnology, with growing negativity about transgenics (or so-called genetically modified organisms, GMOs). "Once they get into that pattern, it's very difficult to switch," says Deng. The ABIC 2018 program addressed these issues, with plenary talks by Craig Rickard of CropLife International (Advances in regulatory cooperation); and Jack Bobo of Intrexon Corporation (Can agriculture save the planet before it destroys it?) filling the theatre with delegates.
Overall, attendees seemed positive about the ABIC experience. Ali Anwar, an international student from Pakistan who just completed his PhD at Peking University, says the conference was a valuable opportunity to share ideas and compare notes with researchers from around the world. "Biotechnology is very important to improve crop yield and quality, in this day when many countries are facing food and water deficiencies."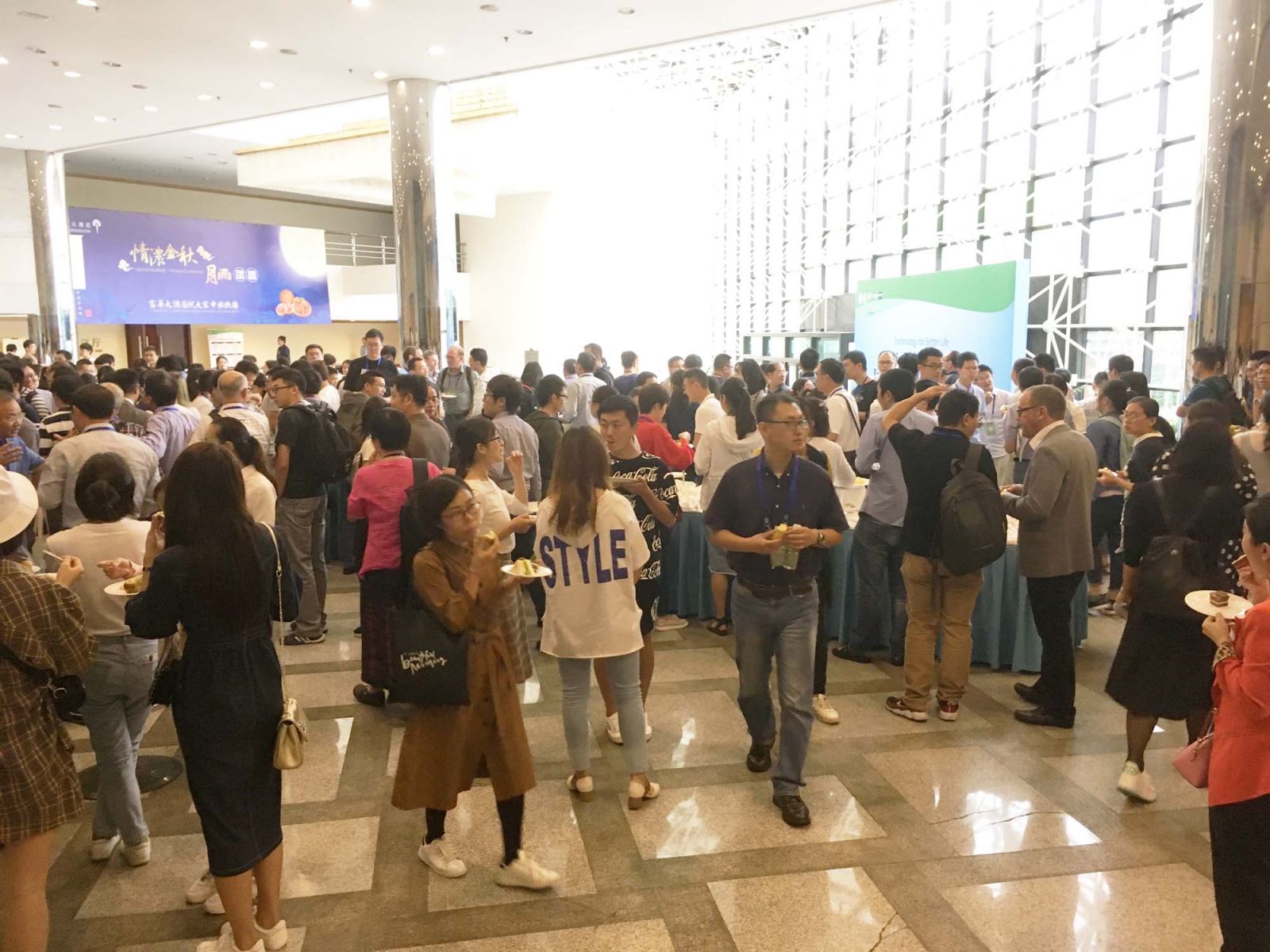 Networking at ABIC 2018  

This marks the third ABIC for Christoph von Heydebrand from the German Federal Ministry of Food and Agriculture. He says the conference gives a good impression of the newest developments in biotech research in agriculture, which is important for his work. "Here we have over 100 experts giving presentations on the research they are doing; that gives a good overview of what is happening in the most important parts the world." He says the most obvious trend in ag biotechnology is a move away from 'traditional' plant breeding methods using transgenics, towards genome editing. "It's the new tool for researchers. Genome editing is really catching on."

Professor Deng says hosting ABIC 2018 was a lot of work, but he was happy to bring the conference to China, as the event was beneficial for the agricultural science community. He says now that the conference has been introduced to China, he is quite sure others would consider bringing it back to the country in the future.