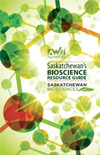 The third edition of the Saskatchewan's Bioscience Resource Guide (Ag-West Bio's 'Little Green Book) is now available, both in hard copy and online. This publication, which features 94 companies and organizations active in Saskatchewan, is produced as a tool to promote the province's bioscience sector. Ag-West Bio distributes the compact book at conferences and trade shows, as well as to incoming delegations from around the world.
Saskatchewan's Bioscience Resource Guide lists a wide variety of organizations, research institutions and companies active in Saskatchewan, from research and development to production, business support and funding agencies.
Our goal is to develop a fully comprehensive listing of Saskatchewan bioscience companies and organizations. If you would like your own printed copy, please contact us. Not yet listed? Contact Ag-West Bio to learn how you can be part of the next edition.