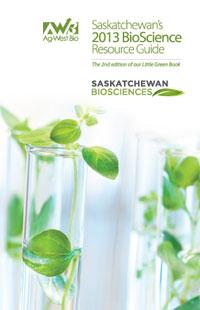 The Saskatchewan bioscience cluster is recognized as a leading Canadian centre for research and development in biotechnology. The region is home to impressive scientific infrastructure, dynamic research institutions and innovative companies – all within close geographical proximity.
The 2nd edition of our 'Little Green Book' is now in print and available on our website. This is a listing of many of the companies and service providers active in Saskatchewan. This is a valuable tool when we are promoting the cluster outside of the province. If you would like a copy, please contact us.
Keeping track of the research and analytic capabilities, and knowing who to call for services can be a challenge. To help make this easier, both within the community and for anyone who is looking to Saskatchewan for services or research and commercialization partnerships, we would like to direct you to www.saskatchewanbiosciences.ca. The Saskatchewan BioSciences website/database is a listing of Saskatchewan-based companies and organizations active in research, along with services and associations that help with commercialization.
Please check the site to be sure you are listed and that your information is up to date. If you are not yet listed, we encourage you to add your information (Note: please gather your information and enter it all at once, as there is no log-out option.)