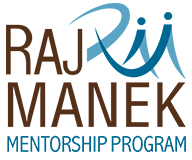 If you are a new business, going through challenging times or want to grow your business
Join the Raj Manek Business Mentorship Program
The Raj Manek Business Mentorship Program (RMMP) has been operating since 1998 and is accepting applications for their September intake.
RMMP provides:
– One-on-one mentorship with an experienced mentor whose skill sets compliment your targeted areas of improvement.
– Monthly seminars on topics of interest create an environment where participants can feel comfortable asking questions.
– Technical advisors available one-on-one in the areas of Accounting, Finance, Human Resources, IT, Legal, Sales, and Strategic Planning.
– Program affiliations to access databases and resources from other programs including PCensus, Reference Canada, Hoovers, iSell, Kompass
– Access to RMMP databases including eStatement Studies, First Research, and Profit Driver
– Peer-to-peer mentorship service where business owners can congregate and share their thoughts, ideas, and jointly solve problems with the guidance of a technical expert.
– Networking opportunities.
This relationship is an interactive sharing environment which results in an enriching, mutual learning experience.
To learn more about the Program, please join us at our annual Business Mixer
Thursday, September 10, 2015
National Research Council Canada
110 Gymnasium Place
Saskatoon, SK
To Register please call us at (306) 244-2151;
email us at info@manekmentorship.sk.ca;
or click here to visit the website
Follow us on Twitter: @manekmentorship