Get the insights on science communication in agriculture.
Watch Genome Prairie's five-part interview series featuring Kevin Folta, Cami Ryan and Michele Payn-Knopper. This expert panel answers questions on the opportunities and challenges facing communicators in ag biotech while providing valuable insights for professional development.
Over the summer of 2014, Genome Prairie led a stakeholder survey to better understand the challenges and opportunities affecting ag bioscience communicators. The goal of this exercise was to identify resources and priorities for issues management in the sector and to encourage discourse among stakeholders.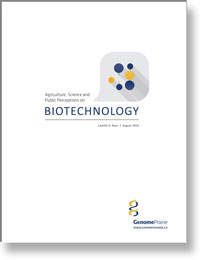 Agriculture, Science and Public Perceptions on Biotechnology
by Dr. Camille Ryan
Download the full report (PDF)