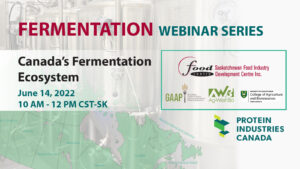 Join the second installment in this project's Fermentation Webinar Series—Canada's Fermentation Ecosystem webinar to hear the latest updates on the result of the ecosystem mapping activities. In addition to learning about Canada's current fermentation capabilities, you will also hear from global fermentation ecosystem industry experts to gain insight into the global perspective on fermentation capacities around the world.
Presentations:
The Fermentation Ecosystem in Finland- EU Perspective
Dr. Nesli Sözer, Research Professor, VTT
A Global Viewpoint of the Fermentation Ecosystem in Israel
Dr. Dorit Rozner, CTO, The Kitchen Food Tech Hub
Ontario Genomics – Canada's $12.5 Billion Opportunity in Food Innovation
Dr. Elaine Corbett, Director, Sector Innovation & Programs, Ontario Genomics
Mapping Canada's Fermentation Ecosystem
Ms. Muriel Garven, President, Garven & Associates Consulting Ltd.
Partners:
Dr. Karen Churchill – President & CEO, Ag-West Bio
Mr. Jay Robinson- President and CEO, Global Agri-Food Advancement Partnership (GAAP)
Dr. Darren Korber- Department Head – Food and Bioproduct Sciences and Professor
Ms. Meghan Gervais -Director of Intellectual Property, Protein Industries Canada (PIC)
Dr. Mehmet Tulbek – President, Saskatchewan Food Industry Development Centre, Inc.
This webinar is sponsored by Protein Industries Canada, Ag-West Bio, University of Saskatchewan, Global Agri-food Advancement Partnership, and Saskatchewan Food Industry Development Centre Inc.