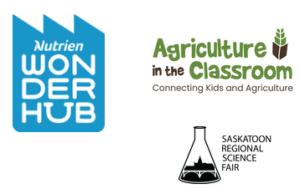 Students (elementary and high school) are invited to participate in a science poster competition on the theme of bioscience and sustainability. Scientist mentors will be available to advise on topics and poster development.
Join us for a kick-off event at Nutrien Wonderhub, for hands-on, table-top science activities for all ages and a quick primer on how to design a poster to explain a science concept.
​2 to 3 pm OR 4 to 5 pm (2 sessions)
All posters will be displayed at the Wonderhub for the month of November, and there will be prizes for the top picks!
​​Teachers: Learn more and register your classroom here.
Individuals: Contact Lindsey at Agriculture in the Classroom to register: lindsey@aitc.sk.ca
Partners: Saskatoon Regional Science Fair, Agriculture in the Classroom, Nutrien Wonderhub
​Supported by
Canadian Light Source
​Global Institute for Food Security
​The Western Producer
Innovation Place
​SaskFlax
​Farm & Food Care Saskatchewan
​Genome Prairie