The Cattlemen's Idea Summit brings together industry members and producers for an evening of learning and networking.
Calling all cattle producers, businesses, and researchers involved in the Saskatchewan beef industry! Join us at Boffins Event Centre to discuss the challenges in moving innovation and technology to commercialization in the cattle industry in Saskatchewan.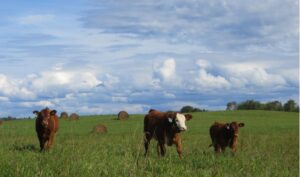 If you are attending in person:
A short program will be followed by networking.
Food and refreshments will be provided.
Doors: 4:00 pm
Program: 4:30 – 5:30 pm
Networking: 5:30 pm
FEES: In person: $10 | Online: Free
Presentations by:
Chelsea & Lee Norheim- Norheim Ranching
Marianne Possberg- Saskatchewan Cattlemen's Assocation 
Jay Robinson- Global Agri-Food Advancement Partnership
This Knowledge Farm event is brought to you by the Saskatchewan Cattlemen's Association.