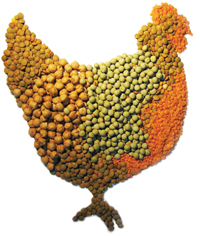 Dr. Shannon Hood-Niefer, VP Innovation and Technology, Sask Food Centre,
will tell us about the science (and the art) behind making 'meat' out of plant proteins with great meat texture, look and taste! 
Winston's Pub (Basement)
243-21st Street, Saskatoon SK
This is a free event. NO registration is required.
Science nuts welcome! (bring your friends)
Download the poster (pdf)

Café Sci Saskatoon is hosting this event in conjunction with Global Biotech Week (read more)
Like Cafe Sci Saskatoon on Facebook!
This event is sponsored by:
Saskatchewan Food Industry Development Centre (Food Centre)
POS Bio-Sciences