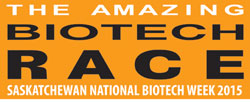 1:00 pm – 4:30 pm
Innovation Place, Saskatoon, SK
Bioscience students from Sask Polytechnic, highschools and the U of S join forces for some healthy competition. Students search for clues and participate in quick lab "challenges" that earn them the next clue, while meeting people and becoming familiar with Saskatoon bioscience companies along the way.
The race will be followed by networking in the Candle-Span room, the Atrium at Innovation Place.
Contact Blaine Chartrand: chartrandb@siast.sk.ca for more information.
This is a National Biotechnology Week event sponsored by Sask Polytechnic, Innovation Saskatchewan, Saskatchewan Ministry of Agriculture, Novozymes, Innovation Place and SaskCanola.
For a complete listing of Saskatchewan events click here.