Brew-HaHa…there's science in my beer!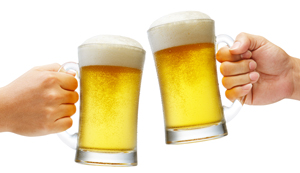 Prairieland Park
503 Ruth Street West,
Saskatoon, SK
Registration:1:30
Annual meeting: 2:00 pm
Program: 2:30 – 4:30 pm
Networking to follow
One of Ag-West Bio's roles as Saskatchewan's bioscience industry association is promoting industries that involve the commercialization of bioscience technologies.
We have chosen to celebrate the science of brewing at our 2016 annual meeting and networking event. After all, beer was one of the first products of biotechnology!
There is a growing interest in craft beer and microbrews in this province. Brew masters strive to perfect this popular beverage, and recipes get ever more creative.
We have invited three scientists to teach us more about some of the key elements behind successful beer making: barley, hops and fermentation.
Guest speakers:
Brian Rossnagel (MC)  – Barley specialist
Distinguished Professor Emeritus, University of Saskatchewan
Alex Speers – Brewing chemistry, fermentation and yeast specialist
Professor and Director, The International Centre of Brewing and Distilling (Institute of Brewing and Distilling Fellow)
David Hysert – Hops specialist:
Past president of the American Society of Brewing Chemists; VP, Technical Director of John I. Haas Inc.
To add some character and really get the event hopping (sorry!), we are showcasing craft breweries who will be offering samples of some of the best beers our province has to offer!
Participants:
Black Bridge Brewery
Bushwakker Brewing Company
Churchill Brewing Company
District Brewing Co.
9 Mile Legacy Brewing Co.
Nokomis Craft Ales
Paddock Wood Brewing Co.
Prairie Sun Brewery
Rebellion Brewing Co.
Saskatoon Brewery
This is a free event and everyone is welcome to attend!

_________________________________________________________________________ Fun Fact references:
1. http://www.pnas.org/content/113/23/6444.abstract 
2. http://www.aperfectpint.net/Hops.pdf 
3. http://www.openculture.com/2015/03/the-oldest-beer-recipe-in-history.html  
4. http://epic-curiousity.com/2014/03/5-facts-about-women-brewing-history.html 
5. https://en.wikipedia.org/wiki/Drinking_straw 
6. http://www.ancient.eu/article/223/ 
7. http://www.grubstreet.com/2011/06/if_not_for_beer_would_the_pyra.html 
8. https://www.theguardian.com/lifeandstyle/2015/jan/30/brief-history-of-ipa-india-pale-ale-empire-drinks 
9. https://en.wikipedia.org/wiki/Reinheitsgebot 
10. http://www.foodreference.com/html/fbeer.html
11. http://onlineslangdictionary.com/meaning-definition-of/zythology