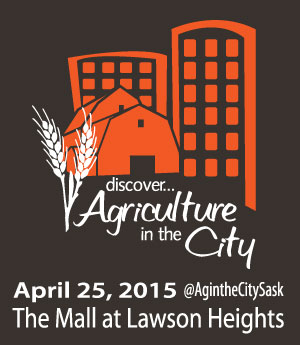 Agriculture in the City is an urban ag awareness event held on Saturday, April 25, 2015 from 9:30 a.m. to 4:00 p.m. at the Mall at Lawson Heights in Saskatoon.
This fun, family-oriented event attracts hundreds of families every year, focusing on how agriculture impacts our daily lives – from food to non-food uses of Saskatchewan grown products. The general public is invited to meet individuals who work in agriculture and to find out more about Saskatchewan's diverse agriculture sector.
A day of fun, family activities, a cooking show, Kids Zone, Science Zone, Food Zone, Crop Zone, Animal Zone – and more!
Thank you to the following organizations and individuals for presenting hands-on workshops in the Science Zone, coordinated by Ag-West Bio:
Agriculture and Agri-Food Canada
Dow AgroSciences
Saskatchewan Research Council
Food and Bioproducts Science Department (UofS College of AgBio)
Agriculture in the Classroom
Genome Prairie
Syngenta Canada
Brenden Van Wyck (VIDO)
Canadian Light Source