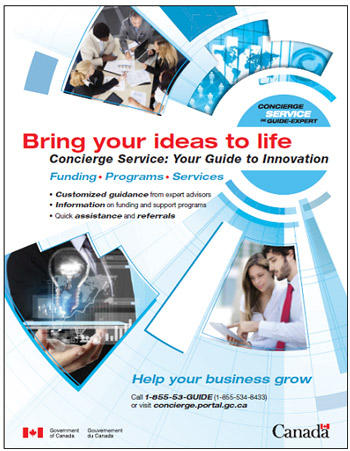 Concierge Service provides single point of access to innovation support programs and services
Having difficulty finding funding and other resources needed to grow your business? Wish you could just pick up the phone and be pointed in the right direction? Many small business owners have found themselves in this exact situation when searching for the information they need to support their innovation. Thanks to the Government of Canada's Concierge Service, a program to assist business innovation, this information is just a click or a phone call away.  
The Concierge Service is Canada's foremost gateway to funding, expertise, facilities and global opportunities for Canadian small businesses. The only service of its kind in Canada, it combines a powerful database of innovation resources with one-on-one guidance and customized service from expert advisors. 
"The Concierge Service program for business innovation was established to assist small and medium-sized enterprises (SMEs) and entrepreneurs in finding relevant programs and services, understanding them to a degree where they can make decisions on whether or not they should pursue them, and make sure that the programs fit the needs of the business," says Christopher Labrador, Director of the Concierge Service. "It's fast and free, and it offers facilitated access to many, many government innovation funding programs and advisory services."
Guidance from a team of industry experts 
The Concierge Service for business innovation is delivered by the National Research Council of Canada Industrial Research Assistance Program (NRC-IRAP) in collaboration with federal and provincial partners.  The key to the service is that it offers customized guidance from a team of expert advisors, located across Canada. Innovation Advisors are industry experts with extensive networks that provide clients with high-quality referrals and searches that yield tailored information and relevant support. 
"The Innovation Advisors use their specific know-how and experience to see the bigger picture and help direct SMEs to the most relevant programs at specific points in their development," says Jo Van Betsbrugge, Quebec Region Innovation Advisor. "We offer information on a whole suite of programs and work with a number of partner organizations to understand the types of clients most suited to their program or service." 
In Canada, there are a number of resources and programs available to help small businesses succeed — the tricky part is figuring out which of these programs is the best suited to meet a business's specific needs. For example,  Saber Miresmailli, Founder and CEO of Ecoation Innovative Solutions, was looking for funding and partnership opportunities that would help him grow Ecoation's business. An Innovation Advisor quickly assessed their business goals and immediately identified the most appropriate resources and programs targeted to their specific needs. 
"One single meeting turned into more than $200,000 in funding, which is pretty remarkable. We didn't even know the program existed, let alone that we were eligible to receive this kind of funding," says Miresmailli. "Our Innovation Advisor was instrumental in connecting us with the right programs that could help us grow, and we would not have been successful in obtaining this funding without his guidance."
If you're looking to bring your business idea to life or breathe new life into an existing business, don't wait, get in touch now!
Get connected fast to the best funding and support programs for you!
Visit the Concierge Service website at www.concierge.portal.gc.ca to search for and access relevant programs and resources.
Connect for free with an Innovation Advisor to receive guidance, advice and referrals that are customized to your business' specific needs. Call the Concierge Service client contact centre at: 1-855-53-GUIDE (1-855-534-8433), Monday to Friday: 7:30 a.m. to 7:30 p.m. EST
*UPDATE: Concierge Service has merged with Innovation Canada and is now Innovation.canada.ca, a single place for entrepreneurs to find everything government can do for their business.